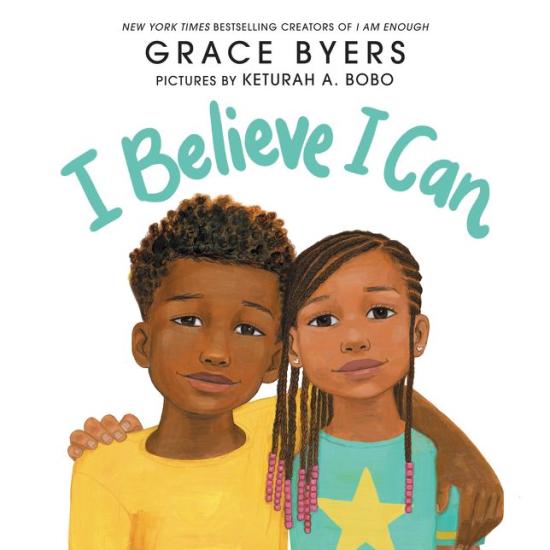 Buy This Book
---
---
"My presence matters in this world. My life is worthy; there's a plan. I know I can do anything, if only I believe I can." –I Believe I Can
I Believe I Can
by Grace Byers
AR Test, Diverse Characters, Must Read
At A Glance
Interest Level

5 – 8
Entertainment
Score
Reading Level
2.0
From the moment she starts her book, I Believe I Can, Grace Byers writes a dedication of encouragement to her readers: "There will always be one person who might not believe in you; let that person never be you." These words set off a first-person narrative of "I can" affirmations.
As the reader dives into the pages of I Believe I Can, they are sent into the narrative as the first-person character; a character with the imagination to accomplish a list of feats including sailing, stretching like the Alps, igniting like a rocket, or building the world up, brick by brick. The narrative describes all the extremes that a person can be: grounded, boundless, brave, loud, right, wrong, and strong. Through these adjectives, the reader understands that they may encounter stumbles along their path and that they may not always be perfect, but that ultimately, believing in oneself is the key to getting up and trying again whenever one falls down.
I Believe I Can by Grace Byers is a book of empowerment for young readers at the very beginning of their road towards understanding themselves and accomplishing new feats. In colorful penciled drawings by Keturah A. Bobo, readers follow along with a diverse cast of children dancing ballet, playing in pirate ships or astronaut helmets, dressing up in silly costumes, planting greenery, and decorating cakes. The book even shows the children making mistakes—like drawing in crayon on their house walls— to relate to the mistakes readers themselves may have experienced.
Byer's diction is simple, the sentence length is short (at most five sentences per page), and most pages are a set of two-sentence rhyming couplets. There is no complicated plot to follow, as the story is more focused on accumulating powerful "I" statements that readers can use throughout their daily lives. In addition, Bobo's drawings often add animation to the subjects described in Byer's phrases. For example, when a rocket is mentioned, there is a drawing of a rocket made from building blocks. In this way, the powerful encouragements and detailed drawings will be suitable for any reader looking to study new words and rhyming sentences on their own.
After reading this book, all youngsters will feel encouraged to dive into the activities they love and believe in themselves as they tackle new things in their life—including reading. I Believe I Can by Grace Byers ultimately shows readers the importance of lifting yourself up, and the way believing in yourself can lead to a power you never knew you had.
Sexual Content
Violence
Drugs and Alcohol
Language
Supernatural
Spiritual Content
by Hannah Olsson
---
"My presence matters in this world. My life is worthy; there's a plan. I know I can do anything, if only I believe I can." –I Believe I Can