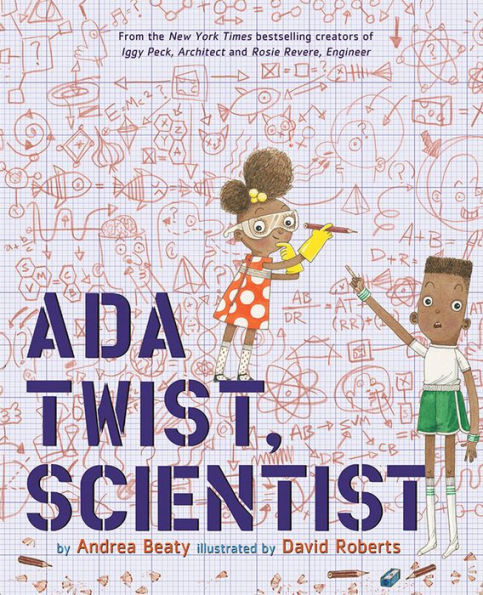 Buy This Book
Buy This Series
---
---
"A mystery! A riddle! A puzzle! A quest! This was the moment that Ada loved best." —Ada Twist, Scientist
Ada Twist, Scientist
Questioneers Collection
by Andrea Beaty
AR Test, Must Read, Picture Book
At A Glance
Interest Level

5 – 8
Entertainment
Score
Reading Level
3.4
Ada Twist loves asking questions. Her curiosity is never satisfied. When she tries to figure out just want is causing the stinking smell, Ada takes her fact-finding a little too far. Her parents are frustrated and frazzled, so they send Ada to the thinking chair. Can Ada figure out how to complete her scientific experiment without causing chaos?
Ada Twist uses rhyme, questions, and scientific vocabulary to show that questioning and curiosity are part of the scientific process. Ada loves asking questions. Why? What? How? When? As Ada tries to figure out the world around her, Ada's parents try to figure out how to best deal with her inquisitive spirit. The story ends with Ada using her curiosity in an appropriate way instead of writing her hypotheses on the walls.
Short text and large illustrations appear on every page, which makes Ada Twist, Scientist an excellent choice for beginning readers. The adorable full-color illustration brings the action to life as well as shows an African American family in a positive light. The parents wear professional clothing, Ada's brother appears in sports apparel, and Ada wears a cute dress. Readers will also enjoy finding the picture of the family's cat that appears on most of the pages.
Ada Twist, Scientist uses a creative and entertaining story to teach the fun of the scientific process and the importance of questioning skills. The two-parent family is portrayed in a positive manner. Ada, although different from other children, is never portrayed as weird or strange. Ada's classroom has students from different races and the children appear in a variety of colorful clothing and styles, which helps enhance the message that being different is a wonderful thing.
Ada Twist, Scientist is intended to be read aloud to a child, rather than for the child to read it for the first time independently. The vocabulary may be difficult and some of the scientific language will need to be defined for the reader. However, Ada Twist, Scientist should be on every child's bookshelf because of the story, illustrations, and lessons that will entertain readers time and time again.
Sexual Content
Violence
Drugs and Alcohol
Language
Supernatural
Spiritual Content
---
"A mystery! A riddle! A puzzle! A quest! This was the moment that Ada loved best." —Ada Twist, Scientist