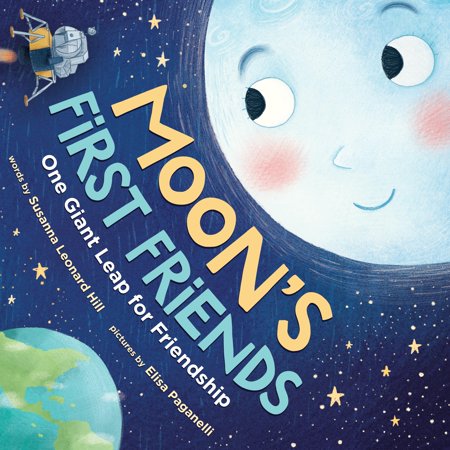 Buy This Book
---
---
"Take these back to Earth," the Moon said. "Then even though I can't visit you, a part of me will be there." –Moon's First Friends
Moon's First Friends: One Giant Leap for Friendship
by Susanna Leonard Hill
AR Test, Picture Book
At A Glance
Interest Level

5 - 8
Entertainment
Score
Reading Level
3.8
The Moon shines brightly in the night sky. She watches the Earth and wishes someone would come visit her. As the Earth changes, the Moon wonders why the animals don't look up at her. In order to get people to notice her, she shows off by spinning and twirling. The moon is excited when people start trying to fly. But they still have a long, long way to go. Will anyone come visit the Moon?
Moon's First Friends begins with the time of the dinosaurs and goes through man's first steps on the moon. The story shows mankind's important feats, including the building of the pyramids, modes of transportation, and finally the construction of the Apollo spaceship. Through it all, the Moon watched and hoped someone would come visit her.
Little readers will empathize with the Moon, who just wants a friend. The Moon's plight comes alive in beautiful, imaginative pictures that bring the Moon's personality to life. The Moon's facial expressions are adorably cute and expressive. As the Moon watches people build the first fire, the Moon looks on with wonder. The Moon patiently watches the events down on Earth and tries to get the attention of those down below. The story ends with the astronauts landing on the Moon, and the moon gives them a gift of moon rocks and dust. In return, the astronauts leave her a "handsome plaque" and a "beautiful flag."
Hill takes an imaginative look at the first Apollo moon landing, gives factual information that will fascinate readers and inspires them to want to learn more. The end of the book includes nonfiction information about the mission to travel to the moon, moon cycles, and other information about the Apollo mission. Readers can also scan a QR code and listen to Neil Armstrong's first words on the moon.
Moon's First Friends will appeal to any child. The brightly colored illustration beautifully shows the Earth's history and shows how the Moon and man become friends. Little readers who are interested in space will also enjoy Mousetronaut Goes to Mars by Mark Kelly and Mae Among the Stars by Roda Ahmed.
 Sexual Content
Violence
Drugs and Alcohol
Language
Supernatural
Spiritual Content
---
"Take these back to Earth," the Moon said. "Then even though I can't visit you, a part of me will be there." –Moon's First Friends