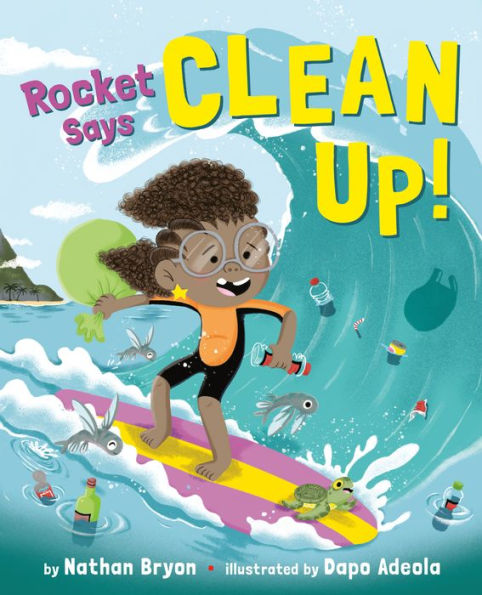 Buy This Book
---
---
"Did you know there are over 5.25 trillion pieces of plastic in the ocean?" –Rocket Says Clean Up!
Rocket Says Clean Up!
by Nathan Bryan
Diverse Characters
At A Glance
Interest Level

3 - 7
Entertainment
Score
Reading Level
4.0
When Rocket goes on vacation to see her grandparents, they spend the day at the beach. Rocket discovers that plastic is taking over the ocean. When Rocket finds a baby turtle wrapped up in plastic, she's determined to do something. Rocket wants everyone to take action! Rocket's passion to make the beach a safer place for wildlife inspires the people around her. Together, can they entice the sea creatures to return?
Rocket's desire to clean up the beach is inspiring and highlights the need for a community to come together to pick up the trash. The illustrations show an explosion of plastic all over the sand, in the water, and wrapped around a tiny turtle. Even though some of the illustrations are humorous, the story still focuses on how trash can be dangerous to sea life. The story even shows how trash can be repurposed to make art. The conclusion has a happy ending which shows the sea turtle being released back into the ocean.
Rocket is a relatable character who isn't afraid to speak up about the dangers of trash. With the help of her grandparents, Rocket brings a community together and makes the beach trash-free. In Rocket Says Look Up, the story and lesson were completely integrated. However, in Rocket Says Clean Up, the message takes center stage at the expense of a well-developed plot. Despite this, readers will enjoy the story, which ends with a list of ways that readers can reduce waste.
Rocket Says Clean Up is an engaging picture book with bright illustrations that are full of fun details. For example, Rocket buries her brother in sand and then builds a sandcastle on top of him. The people at the beach are a diverse group that includes people from different races as well as different body types. The large cast of people in the illustrations helps reinforce the concept that it takes a community to clean up a beach.
Even though Rocket Says Clean Up is a picture book, the story is intended to be read aloud to a child, rather than for a child to read it for the first time independently. Most pages contain 1-4 sentences, but some of the sentences are complex. Rocket gives a few interesting facts about where trash comes from, and how it hurts animals. These interesting facts appear in quote boxes and begin with, "Did you know. . ."
Rocket, who is African American, looks up to Imani Wilmot, who created the first female surf competition in Jamaica. Rocket's experiences will encourage readers to learn more about protecting the ocean. The bright, fun illustrations will capture readers' attention, and Rocket's enthusiasm will keep readers interested until the last page. Readers who would like to learn more about the ocean should add Shark Lady by Jess Keating and Shawn Loves Sharks by Curtis Manley to their reading list.
Sexual Content
Violence
 Drugs and Alcohol
Language
Supernatural
Spiritual Content
---
"Did you know there are over 5.25 trillion pieces of plastic in the ocean?" –Rocket Says Clean Up!