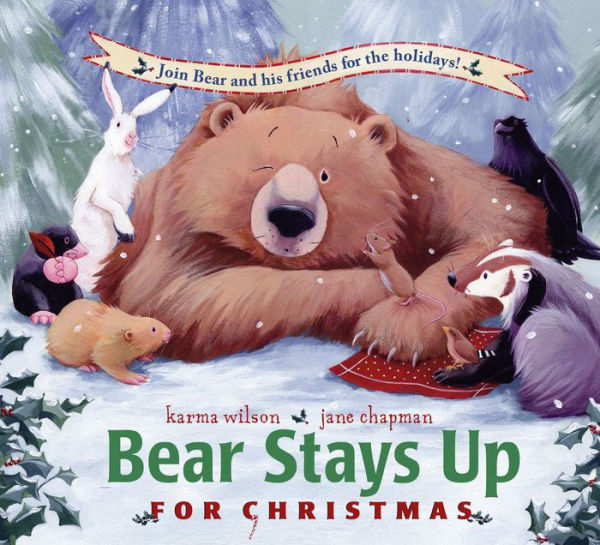 Buy This Book
Buy This Series
---
---
"Raven and Wren bake a fresh fruitcake. The friends do their best to keep Bear awake." –Bear Stays Up for Christmas
Bear Stays Up for Christmas
by Karma Wilson
AR Test, Picture Book
At A Glance
Interest Level

3 – 7
Entertainment
Score
Reading Level
2.7
Bear's friends are determined to keep Bear awake for Christmas! So they wake Bear up and have him help them find a Christmas tree, bake cakes, hang up stockings, and sing Christmas songs. At first, Bear has a difficult time staying awake, but soon he's so excited for Christmas day that he can't sleep. When all of his friends fall asleep, Bear stays up and makes each one a Christmas gift. Bear is so busy making gifts that he doesn't see Santa come. Bear and his friends share their gifts, and then Bear falls fast asleep.
Bear Stays Up for Christmas has adorably cute illustrations that feature many forest animals, including a rabbit, a badger, a crow, a mole, and a goffer. Each page has colorful illustrations. When Bear and his friends go outside, everything is wintery white as the snow falls. Inside Bear's lair, the illustrations are completed in warm browns. Each picture has some fun details. For example in one illustration, the goffer and rabbit are playing jump rope with the mouse.
Bear and his friends are kind to each other, and they demonstrate what friendship looks like—caring for each other and spending time with one another. Each page of the story has 1-4 lines of text. The text repetition and rhyming make Bear Stays Up for Christmas a fun story to read aloud. Little readers will fall in love with Bear and his friends, who will inspire them to make gifts for their friends. Bear Stays Up for Christmas will entertain readers as well as teach the true meaning of Christmas.
Sexual Content
Violence
 Drugs and Alcohol
Language
Supernatural
Spiritual Content
---
"Raven and Wren bake a fresh fruitcake. The friends do their best to keep Bear awake." –Bear Stays Up for Christmas