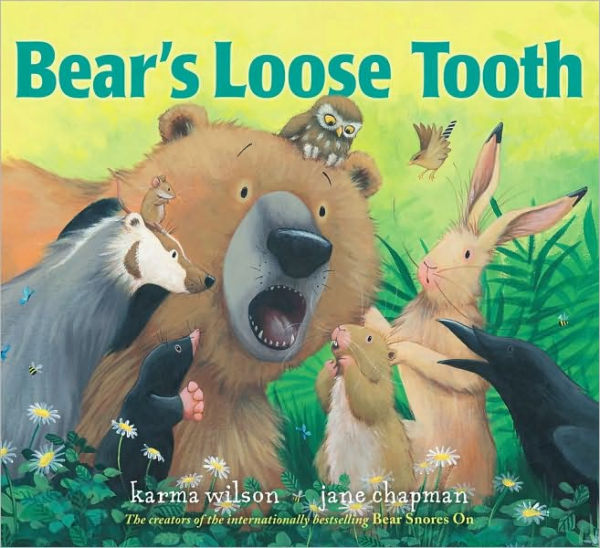 Buy This Book
Buy This Series
---
---
"Bear frowned and he worried. Tears welled in his eyes. 'But how will I eat if my tooth says good-bye?'" –Bear's Loose Tooth  
Bear's Loose Tooth
by Karma Wilson
AR Test, Picture Book
At A Glance
Interest Level

3 – 7
Entertainment
Score
Reading Level
2.2
Bear and his friends are munching on their lunch when all of a sudden Bear feels something wiggling and wobbling in his mouth. It's Bear's first loose tooth. Bear's friends ease his concern about his tooth and help him understand that losing a baby tooth is perfectly natural. Bear puts his tooth on a plate and the tooth fairy replaces the tooth with fresh berries for the bear to munch.
Everyone, whether they have lost their first tooth or not, will fall in love with Bear and his forest friends. Bear's friends want to help him by pulling out the tooth. First, the little wren tries, then the owl. All of his friends try to remove the tooth, which doesn't come out until Bear uses his tongue to nudge and wiggle the tooth. The cute ending will both surprise and delight readers.
Bright, colorful illustrations chronicle the process of Bear losing his first tooth. The full-page illustrations are adorably sweet and have just a bit of humor. Readers will giggle as all of Bear's friends look into his mouth as the rabbit wiggles the tooth. All of the animals' faces are expressive and show emotion, but the story focuses mainly on Bear's emotions which allows the reader to see his sadness and his joy.
Bear's Loose Tooth is perfect for younger readers. Each two-page spread has 1-6 sentences that contain alliteration and some rhyming words, which makes the story fun to read aloud. The picture book is intended to be read aloud to a child, rather than for the child to read it for the first time independently. Bear's Loose Tooth is a fun story that will help younger readers understand why their teeth become wiggly and fall out.
Sexual Content
Violence
 Drugs and Alcohol
Language
Supernatural
Spiritual Content
---
"Bear frowned and he worried. Tears welled in his eyes. 'But how will I eat if my tooth says good-bye?'" –Bear's Loose Tooth