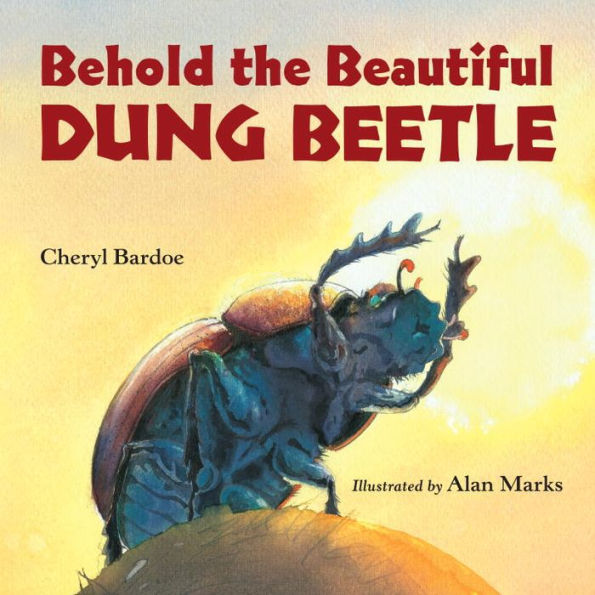 Buy This Book
---
---
"Ancient Egyptians were impressed with dung beetles, which they called scarabs. The orbs of dung that were rolled across the earth and buried reminded them of the sun traveling across the sky and setting in the horizon." –Behold the Beautiful Dung Beetle  
Behold the Beautiful Dung Beetle
by Cheryl Bardoe
AR Test
At A Glance
Interest Level

5 – 8  
Entertainment
Score
Reading Level
5.6
Simple science text and dramatic illustrations give a close-up view of the fascinating world of the dung beetle. When an animal lightens its load, dung beetles race to the scene. They battle over, devour, hoard, and lay their eggs in the precious poop. Dung is food, drink, and fuel for new life – as crucial to these beetles as the beetles are to many habitats, including our own.
Young readers may get squeamish when they think of a beetle eating dung, but right from the start Behold the Beautiful Dung Beetle explains dung in a neutral tone. "Somewhere in the world right now an animal is lightening its load." Most of the time, animal waste is called dung, but it is also called poop or feces. While humans would never consider eating dung, for a dung beetle, "one animal's waste is the dung beetle's treasure."
Readers may think a picture book that illustrates poop would be gross, but at times the illustrations make it seem surprisingly spectacular. Most of the time, the dung piles look like brown balls. The watercolor illustrations use hues of nature and most of the illustrations are done in shades of brown and gold. The illustrations give a close look at the beetle's home and body parts. While the focus is on the different types of beetles, the pictures also show the other animals that live near dung beetles. Readers will have fun looking at the elephants, giraffes, and other animals that appear in the background.
Even though Behold the Beautiful Dung Beetle is a picture book, the story is intended to be read aloud to a child, rather than for the child to read it for the first time independently. Each page has 1 to 6 sentences. Because some of the text is written in complex sentences with advanced vocabulary, young readers may need help. The book ends with more beetle facts, a diagram, a glossary, and a bibliography.
Behold the Beautiful Dung Beetle is packed full of interesting facts and shows how beetles help the environment. By the time readers get to the last page, they will realize that dung beetles aren't gross at all. Instead, readers will discover that beetles are amazing. "Clad in splendor, dung beetles ascend into our world. They are ancient symbols of life and renewal."
Sexual Content
The book explains the mating of beetles. For example, "Tunnelers mate and stash their eggs deep inside underground vaults."
Violence
Sometimes dung beetles fight for their food. "Rollers engage in head-to-head combat to defend their dung—and for the promise of finding a mate."
Different types of dung beetles fight in different ways. "Tunnelers push and pry and twist and turn in underground battles . . . The bigger beetles with larger horns usually force smaller beetles out of the nest and away from dung supplies."
 Drugs and Alcohol
Language
Supernatural
Spiritual Content
---
"Ancient Egyptians were impressed with dung beetles, which they called scarabs. The orbs of dung that were rolled across the earth and buried reminded them of the sun traveling across the sky and setting in the horizon." –Behold the Beautiful Dung Beetle