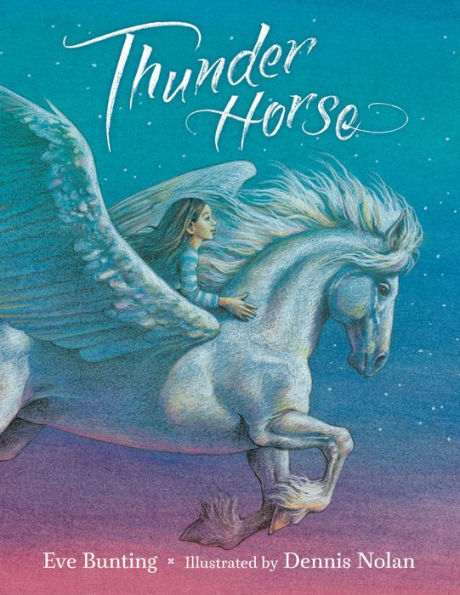 Buy This Book
---
---
"He will grow and change. And when he does he will want to leave. He's a magical creature and you cannot own magic. But he will feel your love and that will keep him with you for a while," Aunt Aldora –Thunder Horse  
Thunder Horse
by Eve Bunting
AR Test, Picture Book
At A Glance
Interest Level

4 – 6
Entertainment
Score
Reading Level
3.2
What if your Aunt Aldora gave you a miniature horse, no bigger than a puppy? And what if the little horse began to grow wings? What would you call him? When he grew large enough, would you ride him? And cherish him?
Thunder Horse is a wonderful story that introduces young readers to Greek mythology and explains how a constellation is formed. The story follows a girl's journey with her thunder horse named Pegasus. When the girl receives Pegasus as a gift, the horse is tiny, but he soon grows large enough to take the girl for a ride through the sky. Even though the girl knows that Pegasus will eventually leave her, the girl encourages Pegasus to fly. When Pegasus is fully grown, the girl "watched as he rose up, up, till he was only a snow speck in the sky. That's when I cried."
The story of the girl and Pegasus is drawn in muted shades that give each illustration a magical feeling. Each picture focuses on the girl and the thunder horse, which allows the reader to feel the girl's wonder and delight. Readers will be able to put themselves in the pictures and imagine themselves flying above the city. Even though Thunder Horse is a picture book, the story is intended to be read aloud to a child, rather than for the child to read it for the first time independently. Each page has 2 to 12 complex sentences that use difficult vocabulary such as quicksilver, agog, and a-glimmer.
Young readers will be drawn to Thunder Horse because of the beautiful cover illustration of a girl and a Pegasus. While younger readers may not understand the larger themes of love and letting go, they will still enjoy the story and watching Pegasus grow and soar.
Sexual Content
Violence
 Drugs and Alcohol
Language
Supernatural
A teacher reads a story about Pegasus, "the winged thunder horse who lived in the palace of the Greek god, Zeus. He became part of a beautiful constellation of stars."
Spiritual Content
---
"He will grow and change. And when he does he will want to leave. He's a magical creature and you cannot own magic. But he will feel your love and that will keep him with you for a while," Aunt Aldora –Thunder Horse