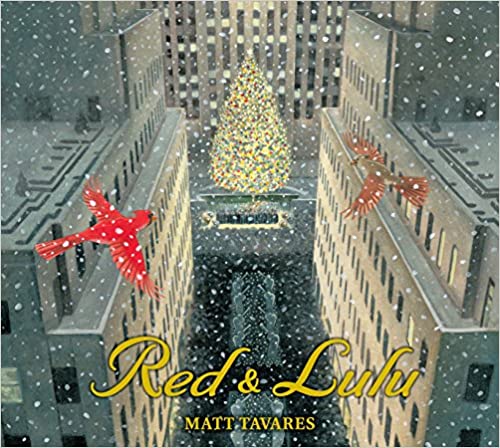 Buy This Book
---
---
"Red and Lulu were happy in their tree and watched with pride as hundreds of thousands of people marveled at its beauty

.

"

–

Red and Lulu
Red and Lulu
by Matt Tavares
AR Test, Picture Book
At A Glance
Interest Level

5-7
Entertainment
Score
Reading Level
3.1
Two cardinals, Red and Lulu, have made a nest in a particularly beautiful evergreen tree overlooking a family's house. The shade from the tree's branches keeps the birds cool during the hot months, while its needles keep them warm during the cold months. Red and Lulu's favorite time of year is winter when the family decorates their tree and sings O Christmas Tree. One morning, as that special season is arriving, Red flies out to find breakfast while Lulu stays behind. When Red returns, he finds that their tree has been cut down, and is being driven away on a large truck. Red can hear Lulu singing from somewhere inside the tree. He calls out to tell her to stay where she is. 
Red flies towards the tree, but he can't keep up with the truck, which leads Red into a chase through highways, across the George Washington Bridge, and through crowded city streets. Before long, Red realizes he has lost sight of the truck, and finds himself in a strange new place unlike anywhere he's ever been before – New York City. Red spends days searching the city for Lulu. He searches outside of the New York Public Library, through Times Square, and over the Empire State Building. During Red's search, he and Lulu's special season finally arrives. As snow falls, Red hears the faint sound of O Christmas Tree being sung from a distance. He hurries towards the sound, finally tracing it to a crowd of people surrounding a familiar tree standing at Rockefeller Center. The tree is covered from top to bottom in colorful Christmas lights, but Red immediately recognizes it as his and Lulu's tree. 
He flies over the happy carolers and into the tree's branches, where he is joyously greeted by Lulu. The two reside happily in their tree and smile at the large crowds of people who seem to love it just as much as they do. One day, the same truck arrives and takes their tree once again. This time, Red and Lulu find a new tree in Central Park, where they make their new home. Every winter since, Red and Lulu take a trip to Rockefeller Center to visit their first tree and listen to the crowd of people sing their favorite song. 
Red and Lulu is a sweet and touching story and a visually engaging read from start to finish. The book is rich with beautiful illustrations that are carefully and passionately drawn to convey the beauty of winter, as well as that of every season in the book's opening pages. The background of each illustration tends to have more muted colors, from beige and yellow autumns to gray and blue winters, which allows the bright red cardinals and glowing holiday decorations to stand out. The font of the narration is notably smaller on some pages, but the straightforward narration allows for an altogether easy read. However, beginning readers may need help understanding some of the difficult vocabulary such as "frantically" and "marveled." There are one to eight sentences per page, but some pages rely on the illustrations to tell the story.  
Red and Lulu's narrative does an excellent job of getting the reader to care about the relationship between its two title characters, making their eventual reunion feel just as special. Readers who celebrate Christmas are likely to enjoy the book's Christmas setting, but the book can also be enjoyed by readers who live in New York City or who are familiar with the area. Readers who have moved homes or are preparing to move can also find this story particularly endearing, as they may relate to the overwhelming change felt by Red and Lulu, as well as the story's message of the home being defined by the presence of loved ones rather than a specific place.  
Sexual Content 
Violence 
Drugs and Alcohol 
Language 
Supernatural 
Spiritual Content 
---
"Red and Lulu were happy in their tree and watched with pride as hundreds of thousands of people marveled at its beauty

.

"

–

Red and Lulu