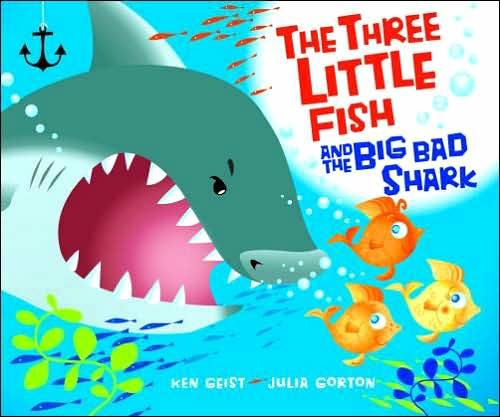 Buy This Book
---
---
"Little fish, little fish, let me come in," the big bad shark. –The Three Little Fish and the Big Bad Shark  
The Three Little Fish and the Big Bad Shark
by Ken Geist
AR Test, Picture Book
At A Glance
Interest Level

3—5
Entertainment
Score
Reading Level
3.0
"Little fish, little fish, let me come in." "Not by the skin of my finny fin fin!" "Then I'll munch, and I'll crunch, and I'll smash your house in!" Mama tells her three little fish that it's time to make their own homes. Jim builds his house of seaweed, but the big bad shark munches it up. Tim builds his house of sand, but the shark crunches it up. It's smart Kim who sets up house in an old sunken ship!
This reimagined version of the Three Little Pigs has no fear factor and is silly enough to entertain squirmy readers. Young readers will love watching the big bad shark break into the little fish's house. But Jim, Tim, and Kim all know the importance of sticking together. In the end, "The big bad shark munched, and he crunched but he would not smash the house in and all his teeth fell out!" After losing all his teeth, the shark is seen eating a salad, and "the three little fish were safe at last."
The Three Little Fish and the Big Bad Shark has plenty of visual appeal. The ocean world comes to life in bright colors. Jim, Tim, and Kim are orange fish that pop out of the blue ocean. Plus, readers will have fun finding the other ocean creatures, such as a crab and a turtle. The giant-sized shark shows all his sharp teeth as he narrowly misses chomping the fish.
Even though The Three Little Fish and the Big Bad Shark is a picture book, the story is intended to be read aloud to a child, rather than for the child to read it for the first time independently. Each page has 1 to 3 sentences that appear in oversized text. Since there is little text on each page, the story is a quick read, making it an excellent bedtime story. The Three Little Fish and the Big Bad Shark is a wonderfully creative fairytale retelling that will entertain readers over and over. Shark-loving readers should also read Clark the Shark by Bruce Hale.
Sexual Content
Violence
 Drugs and Alcohol
Language
Supernatural
Spiritual Content
---
"Little fish, little fish, let me come in," the big bad shark. –The Three Little Fish and the Big Bad Shark