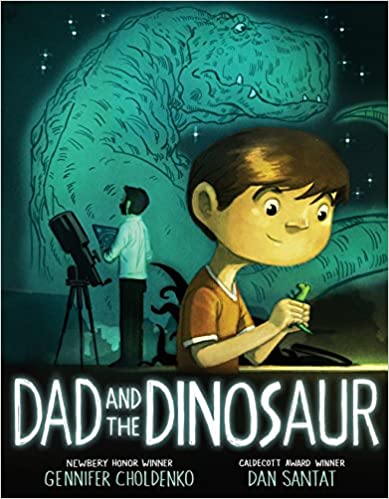 Buy This Book
---
---
"

Nicholas tried to be brave like his dad, but he needed help. . . big help. He needed a dinosaur.

Dinosaurs like the dark, bugs are nothing to them, and they eat manhole covers for lunch and everything under them for dinner.

"

–

Dad and the Dinosaur

 
Dad and the Dinosaur
by Gennifer Choldenko
AR Test, Picture Book
At A Glance
Interest Level

5 – 8
Entertainment
Score
Reading Level
2.9
Nicholas was afraid of the dark outside his door, the bushes where the giant bugs live, and the underside of manhole covers.
 
His dad was not afraid of anything.
 
Nicholas wants to be as brave as his dad, but he needs help. That's why he needs a dinosaur. After all, dinosaurs "like the dark, bugs are nothing to them, and they eat manhole covers for lunch and everything under them for dinner."
 
With his toy dinosaur, Nicholas can scale tall walls, swim in deep water, and even score a goal against the huge goalie everyone calls Gorilla. But when his dinosaur goes missing, everything is scary again.
 
Luckily, his dad knows that even the bravest people get scared, and it's okay to ask for help facing your fears.  
Anyone who has ever been afraid will relate to Nicholas, who carries his dinosaur with him everywhere. Having his dinosaur helps Nicholas feel brave. But when the dinosaur is lost, Nicholas begins to be afraid. Suddenly, Nicholas notices that "the night was as black as octopus ink, giant bugs were everywhere, and their little car was nearly sucked under the street." Illustrations help bring Nicholas's fears to life by showing large bugs skittering across the road, and a large octopus crawling out of a manhole. When Nicholas goes to bed, a large octopus tentacle reaches out to touch him. But with his dad's help, Nicholas finds his dinosaur and is brave again. 
The illustrations show the contrast between Nicholas's toy dinosaur and his imagined dinosaur. Nicholas's imaginary dinosaur is shown as a huge outline while the smaller toy dinosaur is often peeking out of a sock or sleeping under Nicholas's pillow. Plus, Nicholas's imaginary fears pop off the page because the illustrations of them are so large. Most pages have one to three simple sentences. However, even though Dad and the Dinosaur is a picture book, the story is intended to be read aloud to a child, rather than for the child to read it for the first time independently. 
The imaginative illustrations and the simple text allow readers to explore the things that cause fear—both real and imagined. Because of this, Dad and the Dinosaur is a relatable picture book that kids will enjoy. However, at the end of the book, Nicholas doesn't tell his mom about how his dinosaur helps him be brave. Instead, it's a secret between Nicholas and his dad. Some parents might not like that a secret is kept between Nicholas and his Dad.  
Overall, Dad and the Dinosaur's wonderful illustrations will capture readers' imaginations and show them how Nicholas overcomes his fear. 
 Sexual Content  
Violence  
 Drugs and Alcohol  
 Language    
 Supernatural 
 Spiritual Content  
---
"

Nicholas tried to be brave like his dad, but he needed help. . . big help. He needed a dinosaur.

Dinosaurs like the dark, bugs are nothing to them, and they eat manhole covers for lunch and everything under them for dinner.

"

–

Dad and the Dinosaur