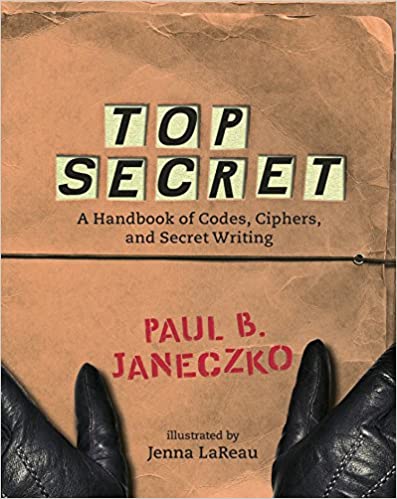 Buy This Book
---
---
"

Thomas Jefferson was a man of great accomplishments. Yet no

t

many people realize that he was responsible for creating the cipher wheel, an enciphering device that was the model for a device used by the American military nearly a century later."

–

Top Secret: A Handbook of Codes, Ciphers, and Secret Writing
Top Secret: A Handbook of Codes, Ciphers, and Secret Writing
by Paul B. Janeczko
AR Test
At A Glance
Interest Level

9+
Entertainment
Score
Reading Level
7.3
Attention: Junior Secret Agent 
Now that these top-secret files have fallen into your hands, you have in your possession everything you'll need to know about making and breaking codes and ciphers. From everyday codes and pictographs to encryption and concealment methods used throughout history, this handbook proves the necessary tools for a budding cryptographer. And as you'll see, a duo of seasoned, sneaky spies is on the case to illustrate how it all works. 
Your mission: Reading this book! 
Top Secret: A Handbook of Codes, Ciphers, and Secret Writing gives many examples of ciphers, including ones from literature such as Poe's ciphers in "The Tell-Tale Heart" and "The Fall of the House of Usher." For each coded message, the answers are in the back of the book, which allows readers to try to figure out the message without peeking at the answers. In addition to ciphers, the book includes information on code-breaking. There are several coded messages that readers will have fun trying to decipher. Readers will also learn about different liquids they can use to make invisible ink. 
Many examples of historical codes are scattered throughout the book, and the end of the book has a chapter titled the "Codemakers and Codebreakers Hall of Fame." This chapter gives more examples of historical people, such as Benedict Arnold, who used ciphers. Many of the people who created ciphers did so to hide military secrets. However, no bloody battle scenes are described. Instead, the book uses a down-to-earth tone that will appeal to readers. In addition, every one to three pages has some type of graphic element—a practice code, a list, or a black and white illustration. Most of the illustrations are humorous, such as a spy running away from an angry pig.  
Top Secret: A Handbook of Codes, Ciphers, and Secret Writing uses an entertaining format to introduce the art of spying. Through historical examples, readers will learn many interesting facts about codemaking, ciphers, codebreaking, and concealment. Anyone who has ever wondered how spies pass secret messages must read this book. To learn more about the Culper Spy Ring, grab a copy of George Washington's Spies by Claudia Friddell as well.  
Sexual Content  
Violence  
Mary Queen of Scots used a substitution cipher, but "it was the discovery and deciphering of this system by her enemies that caused her to lose her head to the executioner when she was convicted of plotting to overthrow Queen Elizabeth."

 

An ancient Greek historian, Herodotus, would send messages to his generals. Herodotus found a servant with poor eyesight and then "shaved the slave's head, then branded a message on his scalp! When the hair grew in, the master told the servant that his eyesight would be better when he had his head shaved at a camp some miles away."

 

During England's civil war, several Puritans were captured and "made the long walk to the gallows."

 
Benedict Arnold betrayed the colonies by spying for the enemy. "After a midnight meeting with Arnold, Andr

é

was captured. . . he was hanged in 1780."

 
Drugs and Alcohol  
Language    
Supernatural 
Spiritual Content  
---
"

Thomas Jefferson was a man of great accomplishments. Yet no

t

many people realize that he was responsible for creating the cipher wheel, an enciphering device that was the model for a device used by the American military nearly a century later."

–

Top Secret: A Handbook of Codes, Ciphers, and Secret Writing