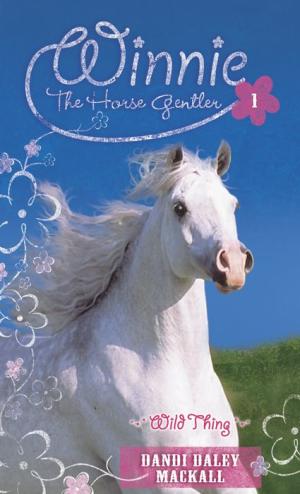 Buy This Book
Buy This Series
---
---
"God in his gracious kindness declares us not guilty. Jesus didn't die for nothing!" Lizzy. –Wild Thing
Wild Thing
by Dandi Daley MacKall
AR Test
At A Glance
Interest Level

8+
Entertainment
Score
Reading Level
3.9
Twelve-year-old Winnie Willis loves horses—just like her mother did. But since her mom died two years ago, Winnie, her sister, Lizzy, and her father have moved five times. Winnie never cared much—until now. She has a chance to buy the horse of her dreams at an upcoming action—but how will she even earn enough money? More importantly, how can she possibly convince her dad not to move them to another town. . . again?
After the death of Winnie's mother, Winnie feels as if the accident that killed her mom was her fault. But when Winnie begins working with a frightened horse, Wild Thing, Winnie uses the same methods that her mother taught her. As Winnie shows Wild Thing unconditional love and trust, Winnie begins to process her own feelings. With the help of new friends, Winnie learns that "God in his gracious kindness declares us not guilty. Jesus didn't die for nothing!"
Told from Winnie's perspective, Wild Thing explores themes of friendship, death, unconditional love, and trust. Through prayer, Winnie explores her conflicting emotions. In addition, Winnie explains the methods that she uses to "gentle" Wild Thing. The connection between Wild Thing's healing and Winnie's healing is made clear—both of them need to learn that they are loved, and they can trust God.
One positive aspect of the story is that Winnie explains horse terms in a simple way that readers will understand. As Winnie works with the horse, she explains the horse terminology in a way that naturally blends with the text. Plus, the back of the book includes a diagram of the parts of a horse, a dictionary of the different ways horses talk, and includes other horse-related terms.
Wild Thing is an easy-to-read story that blends horse action with Winnie's personal struggle. Along the way, Winnie meets a variety of people who are all a little bit quirky. While none of the supporting characters are well-developed, their kindness shows how a community of people can help each other. Through Winnie's prayers and Bible verses, the story highlights God's unconditional love without being preachy. Wild Thing will entertain readers as well as reinforce Biblical truths.
Sexual Content
Violence
 Drugs and Alcohol
Language
A character is called an idiot three times. For example, when Winnie accidentally throws manure on a girl, the girl asks, "Did you see this idiot throw Towasco's manure all over me?'
Supernatural
Spiritual Content
Winnie believes in God and often thinks about his words. For example, Winnie's mom used to say, "Winnie Willis, in the beginning God created heaven and earth and horses. And sometimes I have to wonder if the good Lord shouldn't have quit while he was ahead."
Often, Winnie prays to God telling him about her emotions and her wants. For example, Winnie prays, "I know we haven't had much to say to each other lately, since Mom's. . .well, you know. . .it's tough to talk to you. So I'm sorry to be coming just because I want something. But I guess you already know—I want that Arabian. I want to love her. I want her more than anything in my whole life. . .except for wanting Mom back."
Winnie gives a prayer of thanks four times. For example, when Winnie thinks God answered a prayer, she prays, "Did you do this, God? If you did, thanks."
Winnie and her sister have two framed needlepoints hanging on their wall. One says, "For your unfailing love is as high as the heavens. Your faithfulness reaches to the clouds. –Psalm 57:10." The other needlepoint reads, "God in his gracious kindness declares us not guilty. Jesus didn't die for nothing!"
When a neighbor drops by to see Winnie, the woman says, "I'll be praying for you and that horse!"
Winnie doesn't think God understands her pain. Her sister tells her, "Jesus lived inside skin like ours, so he'd understand. He knows, Winnie. And he loves you. You have to believe God loves you."
When Winnie worries about the cost of raising a horse, her dad says, "Your mother always said God's love could see us through anything. All things are possible with God, right?"
---
"God in his gracious kindness declares us not guilty. Jesus didn't die for nothing!" Lizzy. –Wild Thing