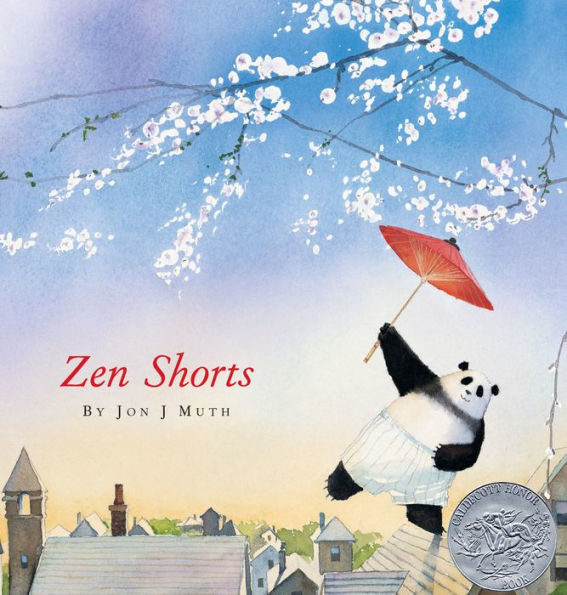 Buy This Book
---
---
"Maybe good luck and bad luck are all mixed up. You never know what will happen next," Michael. –Zen Shorts
Zen Shorts
by Jon J. Muth 
AR Test
At A Glance
Interest Level

4 - 8
Entertainment
Score
Reading Level
2.9
When Stillwater, a giant panda, moves into Addy, Michael, and Karl's neighborhood, he tells them the most amazing stories.
He tells Addy the tale of a poor man who gives gifts to a robber. He tells Michael of a farmer who knows that luck can be neither predicted nor judged. And to Karl, he tells the tale of a monk who carries the weight of a burden long past. Stillwater imaginatively presents three classic Zen stories that abound with enlightenment and love.
Using watercolors, the full-page illustrations beautifully bring Stillwater and the three children to life. The illustrations capture the huge size of Stillwater, but still portray him as a kind and cuddly panda. Stillwater's patience is shown through his willingness to let Michael climb on his head and jump from his stomach, and when he ignores Michael's complaining.
Each time one of the children arrives at Stillwater's house, he tells them a story. The story pages are delineated by using a solid background color with black-and-white illustrations. When Stillwater tells the stories, some of the pages become text-heavy, which may make it difficult for squirmy children to sit through the entire book. Stillwater shows that spending time with someone and telling them a story is a gift.
Zen Shorts connects classic Zen Stories to the children that visit Stillwater, which allows readers to understand how Zen stories apply to modern life. The author's goal is to help children realize that, "When you look into a pool of water, if the water is still, you can see the moon reflected. If the water is agitated, the moon is fragmented and scattered. It is harder to see the true moon. Our minds are like that. When our minds are agitated, we cannot see the true world."
Even though Zen Shorts is a picture book, the story is intended to be read aloud to a child, rather than for the child to read it for the first time independently. Each page has 1 to 10 complex sentences. Younger readers may not understand the meaning of Stillwater's stories. However, much like Aesop's Fables, Zen Shorts would be an excellent book to use as a conversation starter. Even though younger readers may not understand all of the stories' messages, the book will still spark readers' imagination. After reading Zen Shorts, readers will want a panda of their own.
Sexual Content
Violence
 Drugs and Alcohol
Language
Supernatural
Spiritual Content
---
"Maybe good luck and bad luck are all mixed up. You never know what will happen next," Michael. –Zen Shorts