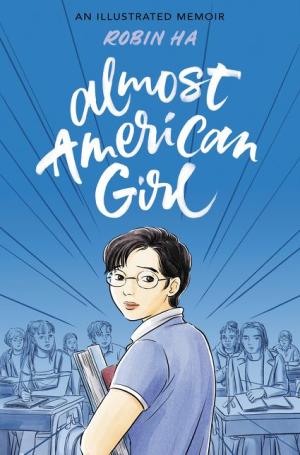 Buy This Book
---
---
"I may have decided to leave as an adult like my mom did. I didn't exactly fit in in Korea or America. I had become Korean American. And that was okay with me." Robin. –Almost American Girl
Almost American Girl
by Robin Ha
AR Test, Graphic Novel, Teaches About Culture
At A Glance
Interest Level

13+
Entertainment
Score
Reading Level
3.4
In her graphic novel memoir, Robin Ha shares the story of her experiences leaving her home in Korea for America, and her journey trying to navigate a new world and form a new identity. Despite living with her single mother (something considered taboo in Korea), Chuna (who later chose the name Robin in America), found her place with her Korean friends. After school, Robin would eat snacks from food stands, shop for comic books, and attend after school classes. Robin was happy and content in Korea until one day, her mother told her they would be taking a trip to Alabama.
Curious by this mysterious location, Robin assumed it was just another vacation her mother had planned. However, in Alabama, Robin was introduced to Mr. Kim and his daughter, Lena. Robin also met Mr. Kim's sister and her children, Grace, Ashley, and Daniel. Finding herself bored and lonely in Alabama, Robin was excited to return to Korea. However, her life was severely shaken when she received the news that her mother and Mr. Kim were getting married, and they would be staying in Alabama indefinitely.
Robin resented her mother for making this decision without her, but she was unable to change her fate. Soon, Robin selected her English name and was sent to a new middle school with Grace and Ashley. Initially, Robin found life in Alabama utterly miserable; she could not understand why her mother believed life in America was better than life in Korea. Robin knew little English and could not communicate with her peers well enough to make friends. In addition, Robin was the only Asian student at her school and suffered racist comments from school bullies who taunted her and made her say rude things in English.
Despite what Robin believed, her mother was not blind to her daughter's suffering. One day, Robin's mother took Robin to a comic-book store and enrolled her in a comic drawing class. There, Robin found herself surrounded by people who shared her love for comic books. She also met Jessica, who instantly became her best friend.
Just as Robin began to grow comfortable in Alabama, things between her mother and Mr. Kim grew rocky. Robin's mother, who always valued her independence, refused to move to Los Angeles with Mr. Kim because she feared it was too unsafe. Her refusal to move sparked tension between her and Mr. Kim's mother who believed she was being a bad wife to her son. Making a desperate attempt to preserve her freedom, Robin's mother made plans to move with Robin to Virginia.
Despite her fears of moving again, Robin adjusted well because her new school was more diverse, and Robin grew very close to a group of Korean girls. In Virginia, Robin finally began to see America as her home. After graduation, Robin and her friends visited Korea, and while Robin still enjoyed certain aspects of Korean culture, her visit allowed her to appreciate American culture even more. These feelings were compounded upon witnessing Korea's harsh treatment of single women and unmarried mothers. In the end, Robin identifies herself as neither Korean nor American, but a combination of both.
Staying true to her love of comics, Robin's memoir is a graphic novel. For most of Robin's story, the comic panels consist of simple and colorful drawings. Each image has a one to two sentence caption, explaining the actions or emotions of the scene. Many images also include dialogue or thought bubbles that provide a good balance of words to pictures. However, some powerful images fill the whole page with just a small amount of text to convey an emotion rather than reality. For example, an image of Robin lying in a dark forest with the caption, "cast out in a strange and hostile land," conveys the loneliness and isolation Robin feels in her first few months in America. The images become more vibrant and colorful when Robin starts to feel more confident and comfortable. While some Korean words are used, a glossary is provided in the back of the book for an explanation. In addition, the blue-colored text is used to imply characters are speaking in Korean, while black text signifies English.
Robin's story speaks to the experience of many immigrants trying to find their cultural identity in a new country. Through her vibrant memoir, Robin Ha shares the beauty of her home country while still being able to look back on the negative aspects through a more mature lens. Through visual flashbacks, characterized by a more neutral color palette, Robin explores how her mother endured shame and insults because she was unmarried, with a young daughter. Despite prejudices against single mothers, Robin's mother did all she could to give Robin a better life. Robin begins to truly realize all the sacrifices her mother made for her, and she learned to appreciate the opportunities America provided.
Overall, Almost American Girl is about embracing change and learning how to value different cultures and appreciate differences. The memoir also reveals how finding your identity is not always an easy process, but it's okay to just be authentic to yourself. Robin's story is inspiring and heartwarming to read. It's fast paced and engages readers by teaching about the cultural differences between Korea and America.
Sexual Content
Robin is surprised by American traditions during her first Halloween. When she saw her friend in a rather revealing costume she thought, "Wow, I can see the top of her boobs."
Later in life, Robin becomes aware of the prejudice against single mothers in Korea. An image shows a teenage Robin watching a T.V in Korea that says, "I didn't raise a slut! You are no child of mine . . . " The show is referring to an unwed mother.
Violence
In her first week of school, Robin is shoved against a locker by two bullies. Robin is not hurt, but she is confused as to why they were being mean.
In a flashback sequence, Robin recalls a time her third-grade teacher called her up to the front of the class and beat Robin's hands with a ruler because she made a slight mistake.
Drugs and Alcohol
When Robin was a baby, Robin's dad would frequently come home late and drunk. Robin's mother said, "You reek of alcohol. Don't come closer!"
Language
A bully at school gets Robin to say, "I eat shit." She is unaware of what she is saying.
When Robin shares that Ashley [her step-cousin] has not been helpful at school her mother cries, "What a little bitch!"
Frustrated with her new life in America, Robin screams she "was happy living in Korea. I had friends and I didn't have to deal with this stepfamily bullshit!"
Supernatural
Spiritual
by Elena Brown
---
"I may have decided to leave as an adult like my mom did. I didn't exactly fit in in Korea or America. I had become Korean American. And that was okay with me." Robin. –Almost American Girl