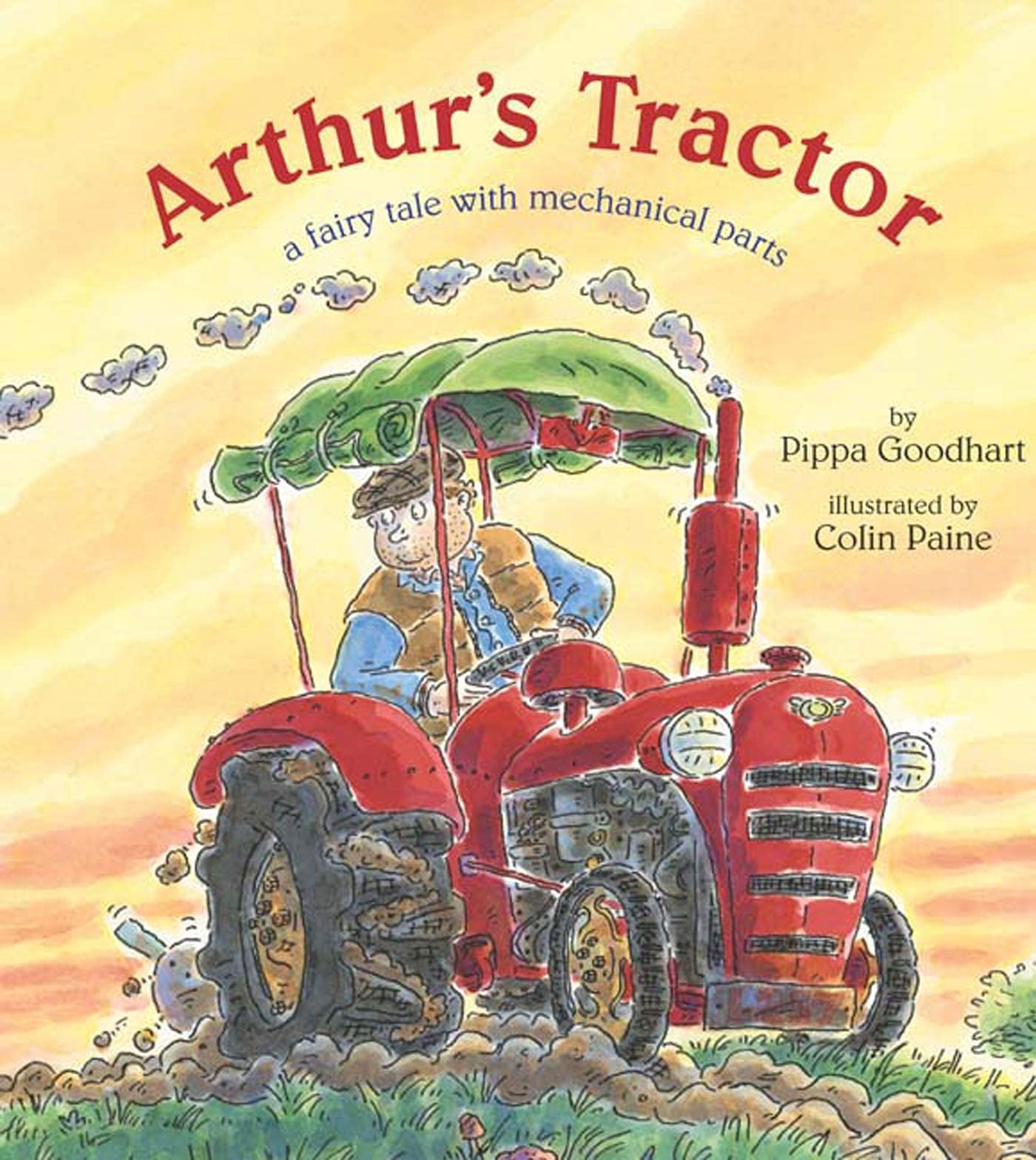 Buy This Book
---
---
"Would you care to share this tractor with me, Edith? And the soil too? We could sow and reap together and forever. What do you say?" Arthur. –Arthur's Tractor
Arthur's Tractor: A Fairy Tale with Mechanical Parts
by Pippa Goodhart
AR Test, Picture Book
At A Glance
Interest Level

4 – 8
Entertainment
Score
Reading Level
3.1
One day, Arthur is out plowing the green fields into brown with a mighty tractor. Does he notice that a fair maiden is running for her life right behind him? Not a chance. Does he notice the dragon? Or the knight?
The only thing he does notice is his "broken" tractor! Little does Arthur realize that he is heading for a fairy tale ending himself. With action and details to discover on every page, this picture book will captivate every knight and princess in your kingdom . . . or backyard!
Arthur's Tractor is the perfect book to read aloud because it's full of funny dialogue and onomatopoeia. For example, while the princess is under attack, she makes many different sounds such as "EEEK!" Arthur thinks that his tractor is to blame for the odd sounds, and he's determined to make his tractor as good as new. At one point, Arthur wonders, "Well, bless my blisters, whatever can that THUD THUD THUD be?"
While Arthur inspects his tractor, a battle is going on right behind him. Behind the green and brown fields that Arthur is plowing, there is a princess in pink, a brave knight, and a huge dragon. Plus, several animals, including a frog and a squirrel, are fighting over a golden egg. Readers will love looking at the detailed illustrations that are packed full of action.
In the end, the princess proves that girls can love tractors as much as anyone. After helping Arthur fix the tractor, the princess says, "Now pass me that can, and I'll oil that coil bolt brandisher before the dang things bangles free." Each page of the picture book has 1 to 6 sentences. Because of the colloquial language, and complex sentences, young readers will need an adult to read the story to them.
Arthur's Tractor will appeal to anyone who loves tractors and fairytales. Young readers will laugh at the silly antics of the fairytale characters and enjoy the unique conclusion that shows the princess driving the tractor as "they all lived happily ever after."
Sexual Content
Violence
 Drugs and Alcohol
Language
Supernatural
Spiritual Content
---
"Would you care to share this tractor with me, Edith? And the soil too? We could sow and reap together and forever. What do you say?" Arthur. –Arthur's Tractor