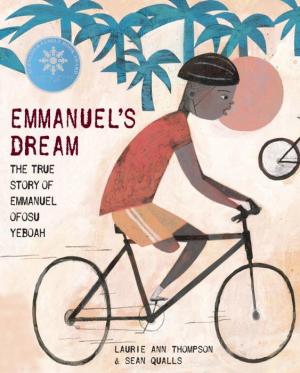 Buy This Book
---
---
"Be respectful, take care of your family, don't ever beg. And don't give up," Mama Comfort. –Emmanuel's Dream  
Emmanuel's Dream: The True Story of Emmanuel Ofosu Yeboah
by Laurie Ann Thompson & Sean Qualls
AR Test, Must Read, Picture Book
At A Glance
Interest Level

5 – 8
Entertainment
Score
Reading Level
4.4
Born in Ghana, West Africa with one deformed leg, Emmanuel was dismissed by most people—but not by his mother, who taught him to reach for his dreams. As a boy, Emmanuel hopped to school more than two miles each way, learned to play soccer, left home at age thirteen to provide for his family, and, eventually, became a cyclist. He rode an astonishing four hundred miles across Ghana in 2001, spreading his powerful message: disability is not inability. Today, Emmanuel continues to work on behalf of the disabled.
Even though Emmanuel only had one good leg, he was determined to do what the other children did—go to school, play soccer, and ride a bike. Unlike most children today, Emmanuel also had to work shining shoes and selling vegetables to help support his family. Because of his disability, people told him to "go out and beg, like other disabled people did." However, Emmanuel refused to give up, and his experiences led him to ride 400 miles across his country to show that "being disabled does not mean being unable."
Even though Emmanuel's Dream is a picture book, most young readers will not be able to read the book independently because of the advanced vocabulary and text-heavy pages. Each page has 2 to 4 sentences and many of the sentences are long and complex. The simple illustrations use bright colors and show Emmanuel's world. Through the pictures, readers will get a brief look at Ghana's culture.
Because of his disability, Emmanuel faced many hardships and discrimination. However, his story focuses on how he overcame each difficult situation. Emmanuel's Dream will entertain readers as it teaches them the importance of perseverance and hard work. Because of Emmanuel's dedication, he was able to succeed in spreading his message. "He proved that one leg is enough to do great things—and one person is enough to change the world."
If you're looking for more inspiring sports related books that focus on people overcoming difficult situations, pick up a copy of She Persisted in Sports by Chelsea Clinton and Catching the Moon: The Story of a Young Girl's Baseball Dream by Crystal Hubbard.
Sexual Content
Violence
 Drugs and Alcohol
Language
Supernatural
When Emmanuel was born, most people thought he would be "useless, or worse—a curse. His father left, never to return."
Spiritual Content
Emmanuel was given his name because it means "God is with us."
Emmanuel asked the king of his region "to give him a royal blessing."
---
"Be respectful, take care of your family, don't ever beg. And don't give up," Mama Comfort. –Emmanuel's Dream