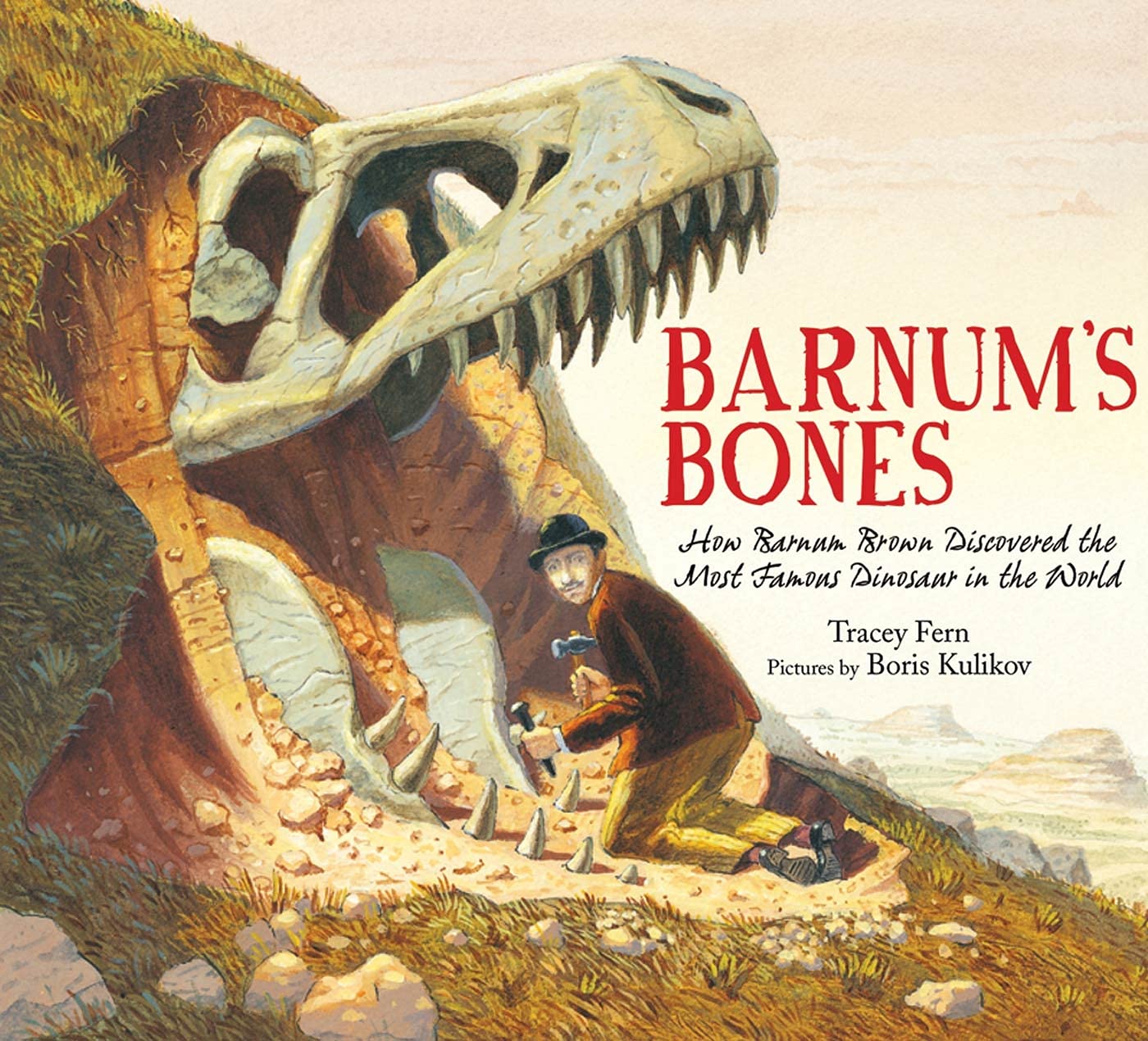 Buy This Book
---
---
Barnum went on a fossil hunt in South America. "Barnum found four and a half tons of mammal fossils, despite being shipwrecked and nearly eaten by a mountain lion." –Barnum's Bones  
Barnum's Bones: How Barnum Brown Discovered the Most Famous Dinosaur in the World
by Tracey Fern
At A Glance
Interest Level

5—8
Entertainment
Score
Reading Level
6.2
Barnum Brown's (1873-1963) parents named him after the circus icon P.T. Barnum, hoping that he would do something extraordinary – and he did. As a paleontologist for the American Museum of Natural History, he discovered the first documented skeleton of the Tyrannosaurus Rex, as well as most of the other dinosaurs on display there today.
Barnum's Bones follows the fossil hunter around the globe as he searches for bones. Barnum found so many bones that some people believed Barnum was "able to smell fossils." Barnum's story also demonstrates the hard work that went into digging the fossils out of the dirt. In the end, Barnum realized his dream of discovering a new dinosaur species. "Just as his family had wanted, Barnum did something important and unusual: he discovered a sleeping dinosaur and brought it back to life. Sixty-six million years after extinction, T. Rex lives on in Barnum's bones."
Told with humor, Barnum's Bones is a fascinating story that details how one man did "important and unusual things." Each page of the picture book has large, detailed illustrations that add humor to the book. For example, in one picture, an iguana is looking at a newspaper story about a stegosaurus. While the story is entertaining enough to keep young readers engaged, the illustrations are so full of fun details that readers will want to take their time studying them. The amazed expression of a horse, Barnum's bedroom overflowing with fossils, and the giant skull of a dinosaur are included in the illustrations.
Even though Barnum's Bones is a picture book, the story is intended to be read aloud to a child, rather than for the child to read it for the first time independently. Most of the pages are text heavy and younger readers may become squirmy before the end of the book. However, anyone who is interested in dinosaurs and paleontology must read Barnum's Bones because it is both informative and interesting. Plus, Barnum's story shows how one man's dedication allowed him to live his dream and discover new dinosaurs.
Sexual Content
Violence
 Drugs and Alcohol
Language
Supernatural
Spiritual Content
---
Barnum went on a fossil hunt in South America. "Barnum found four and a half tons of mammal fossils, despite being shipwrecked and nearly eaten by a mountain lion." –Barnum's Bones