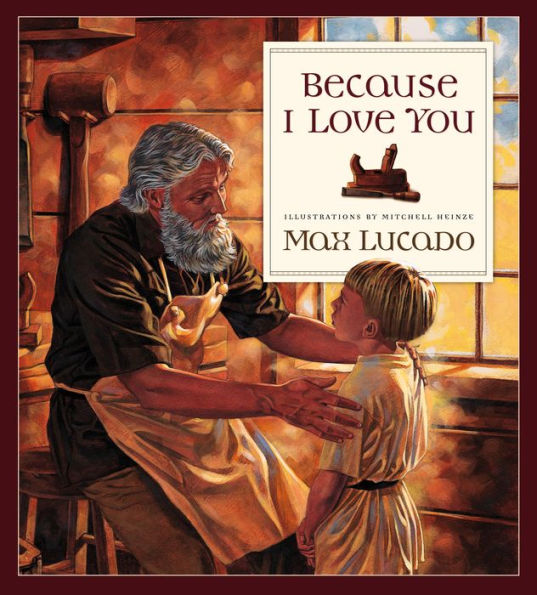 Buy This Book
---
---
"I was curious, Shaddai. I wanted to know why you won't let us go out there. Why is it so bad?" Paladin. –Because I Love You
Because I Love You
by Max Lucado
AR Test, Picture Book
At A Glance
Interest Level

4 - 8
Entertainment
Score
Reading Level
3.4
A long time ago, Shaddai built a village for the children to live in. The children were safe to play and spend time with Shaddai, who was always near. Shaddai would sing to the children and tell them stories. He knew everything about the children—who was shy, who was afraid, and who was curious.
One day Shaddai built a wall around the village. He loved the children and wanted to keep them safe. But Paladin was curious. He wanted to see what was on the other side. Despite the warnings of danger, Paladin crawled through a hole in the wall and was soon lost in the dark forest.
Because I Love You is a parable about God's love. Shaddai, like God, listens, protects, and loves his children. Even though Paladin chooses to do what is wrong, Shaddai loves Paladin and goes to finds the lost boy. Although the message of God's love will be clear to adults, the story's message may need to be explained to younger readers. The story explores the idea of free will as well as God's desire for us to do what is right. Some readers may not understand why Shaddai created a hole in the wall that Paladin could crawl through or how the hole closes once Paladin goes through it.
Beautiful full-page illustrations show scenes from the village and make Shaddai's caring nature shine.  Even though Because I Love You is a picture book, parents will need to read the story aloud because of the text heavy pages and difficult vocabulary. For parents looking for a book that teaches about the Christian faith, Because I Love You would make an excellent addition to a child's library. Readers will enjoy looking at the pictures over and over again as well as having the story read to them aloud.
Sexual Content
Violence
Drugs and Alcohol
Language
Supernatural
Spiritual Content
---
"I was curious, Shaddai. I wanted to know why you won't let us go out there. Why is it so bad?" Paladin. –Because I Love You