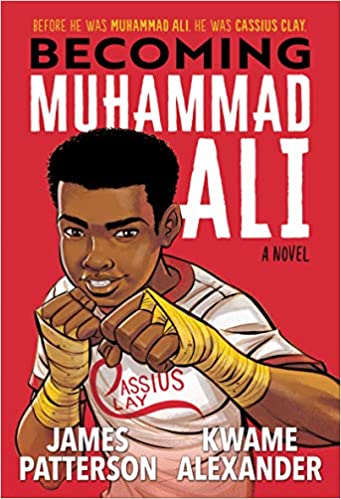 Buy This Book
---
---
"Education is the bicycle that'll get your there, Cassius. You keep pedaling, sometimes uphill, sometimes down. I want to see you doing better in your schooling, not throwing punches at the wind," Daddy. – Becoming Muhammad Ali
Becoming Muhammad Ali
by James Patterson & Kwame Alexander
AR Test, Good for Reluctant Readers, Must Read
At A Glance
Interest Level

8+
Entertainment
Score
Reading Level
5.4
Before he became the legend, Muhammad Ali, young Cassius Clay learned history and card tricks from his grandfather, hid report cards from his parents, and biked around Louisville with his pals. But when his bike is stolen, Cassius decides there's something else he wants: to be able to fend off bullies by becoming a boxer.
Cassius has a best friend, Lucky, who sticks by him whether his fists are raised in victory or his back is against the ropes. Before long, Lucky is cheering Cassius on in his first amateur fight. With the support of all his friends and family, will Cassius make it to the top?
Becoming Muhammad Ali focuses on Cassius' younger years and highlights the importance of his family and his community. Cassius' story is told from both his point of view and his best friend's point of view. When Cassius is telling his own story, the words appear in poetry format. This narrows the story and allows Cassius' swagger to shine. When the story shifts to Lucky's point of view, the text appears in paragraph structure that uses a conversational tone. Lucky's perspective allows the reader to see Cassius' intense training schedule and shines a light on Cassius' fear. The joint perspectives give a well-rounded picture of Cassius' bold personality and personal struggles.
Because the story begins in the late 1950s, Cassius' story isn't just about boxing. The biographical novel delves into the racism prevalent during this time period. Each example of racism is described in a kid-friendly manner that allows the reader to picture the events. The descriptions all focus on events that affected Cassius. He explains the events in a way that shows the unfairness of the situation without sounding bitter or preachy. However, some readers will not understand the correlation between racism and Cassius' desire to change his name to Muhammad Ali and "use his time to focus on black pride and racial justice."
Becoming Muhammad Ali is an entertaining and engaging biographical novel that will inspire readers to fight for their dreams. Through Cassius' actions, readers will see the hard work and dedication that allowed Cassius to become one of the best boxers in history. However, Cassius' story isn't just a boxing story, it's a story about family and friends. Cassius' story doesn't gloss over some of the unfairness in life. Instead, Cassius shows how he overcame obstacles and, in the end, realized that there are some things that are more important than boxing.
When a reporter asked what Cassius wanted to be remembered for, he said, "I'd like for them to say, he took a few cups of love, he took one tablespoon of patience, one teaspoon of generosity, one pint of kindness. He took one quart of laughter, one pinch of concern, and then he mixed willingness with happiness, he added lots of faith, and he stirred it up well. Then he spread it over a span of a lifetime, and he served it to each and every deserving person he met."
Cassius' story comes to life in easy-to-read prose and includes full page, black and white illustrations that are scattered throughout. Becoming Muhammad Ali is a must-read because it highlights how hard work and dedication allowed Cassius to achieve his dreams. Readers who want to read another inspirational sports book should check out The Crossover by Kwame Alexander, which has also been made into a graphic novel.
Sexual Content
Violence
Since Cassius watched boxing matches and later fought in them, there are some descriptions of the matches. For example, Cassius describes a fight when Frank Turley "broke a guy's nose with a left jab, then smiled when the joker went tumbling outta the ring, blood spurting everywhichaway."
Cassius and his friends were walking along the street when a "car filled with men. White men" drove by. One of the men "flashed a knife—a switch blade. [Lucky] saw the guy with the knife say something to the driver. The car engine stopped. Then all four car doors opened at once." Cassius and his friends ran away from the men and were safe.
Cassius tells a story about "how Tom the Slave escaped freedom by hiding in a casket on a ship of dead bodies on its way to London, England, and how when he got there he became a famous bare-knuckle boxer. . . the Brits rushed the ring in the ninth round, clobbered Tom, and broke six of his fingers."
A kid from the neighborhood, Corky, bullied Cassius and his friends. Corky "stepped on my sneaks, and bumped Lucky with just enough force to make him lose his balance, and knocked Rudy backwards like a domino into a couple. . ." then Corky wandered off.
During a match, Cassius landed "a series of short pops to his head, one right below his left ear that makes him stumble into the ropes. . ." Cassius wins the match.
Cassius' father showed him "a gruesome magazine photograph of a twelve-year-old faceless boy who was visiting family. . . when he was shot in the head, drowned in the river, and killed for maybe whistling at a white woman."
 Drugs and Alcohol
Language
Supernatural
Spiritual Content
Cassius' mom didn't like him betting "on account of God not liking ugly, and all gambling is ugly."
When Cassius says that the Bible didn't get him and his brother into the whites' park, his mother says, "Boy, don't you dare blaspheme the Good book."
During one match, Cassius "recited the Lord's prayer."
Cassius' mother prays, "we gather together to send this boy out into the world, and ask that you hold his dreams tight, let them rocket to the stars and beyond."
Cassius "joined the Nation of Islam—a movement that was founded to give black people a new sense of pride. A week later, he changed his name to Muhammad Ali."
---
"Education is the bicycle that'll get your there, Cassius. You keep pedaling, sometimes uphill, sometimes down. I want to see you doing better in your schooling, not throwing punches at the wind," Daddy. – Becoming Muhammad Ali