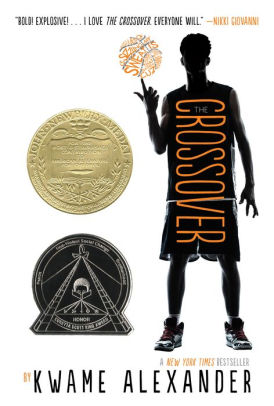 Buy This Book
---
---
"The sky is your limit, sons. Always shoot for the sun and you will shine," Chuck "Da Man" Bell. —The Crossover
The Crossover
by Kwame Alexander
AR Test, Diverse Characters, Must Read
At A Glance
Interest Level

9+
Entertainment
Score
Reading Level
4.3
Twelve-year-old Josh and his twin JB Bell are the kings of the basketball court. Untouchable and unstoppable—the sons of former professional basketball player Chuck "Da Man" Bell couldn't be anything less than excellent. But when Alexis walks right into the twins' lives and steals JB's heart, Josh is left without his best friend by his side. Meanwhile, the boys' father's health is on the decline, despite Chuck's utter denial. Josh and JB must deal with the consequences of everyone's actions—including their own.
Kwame Alexander's The Crossover is told in free-verse poetry. As with the prequel novel Rebound, his free-verse poetry works really well with the beat of the basketball games and Josh's narration. Oftentimes, the basketball lingo and Josh's internal monologue intermix, and readers will find that the verses enhance the experience.
The Crossover does an excellent job of mixing different storylines. The tensions between the twins' father's health, the upcoming basketball championships, and the brothers all get a good amount of page time and work together to raise the stakes. Josh and JB have more arguments as the pressure increases in basketball, and their father has more and more complications with his health as the book continues. The climax of the book is foreshadowed well early on, and each plot point finds an end.
These plot threads help create the themes of family, atonement, and inheritance. The dynamic between the twins, their mother (Crystal), and their father (Chuck) is healthy, though they do occasionally argue. JB and Josh argue with each other often. But when JB refuses to speak to Josh after Josh nearly breaks JB's nose with a basketball, Josh reveals just how much he loves his family. He also does everything in his power to atone for his actions, and he and JB soon forgive each other. The boys also deal with their father's legacy and how the legacy impacts their futures. Chuck was a basketball star, and the boys have inherited his prowess on the court. However, high blood pressure and stubbornness also run in the family, and the boys struggle with the fact that they may also inherit these negative characteristics.
While this Newbery Medal Winner is short, Alexander handles all these topics well. Basketball fans will enjoy The Crossover for the sport aspects, but the appeal of the book reaches further than the court. Josh and his family are realistic characters who experience universal emotions like love, anger, and loss. The Crossover is an excellent story that even non-readers and non-sport fans will find enjoyable. The story shows that despite differences in time, space, and opinion, we carry our loved ones in our hearts, always.
Sexual Content
Josh and JB's dad, Chuck "Da Man" Bell tells his sons about how back in the day, he "kissed/ so many pretty ladies."
Josh says that the only reason why JB has been "acting all religious" is because his classmate "Kim Bazemore kissed him in Sunday/ school."
Josh does his homework while his teammate "Vondie and JB/ debate whether the new girl/ is a knockout or just beautiful,/ a hottie or a cutie,/ a lay-up or a dunk."
Josh teases JB and asks if "Miss Sweet Tea" (Alexis) is his girlfriend. JB dodges the question. However, it is clear that he likes her a lot because "his eyes get all spacey/ whenever she's around,/ and sometimes when she's not."
Chuck faints, and his wife Crystal demands that he see a doctor. Chuck refuses, and they argue. In an attempt to diffuse the tension between them, he says, "Come kiss me."
After Crystal and Chuck stop arguing about Chuck's health, Josh narrates, "And then there is silence, so I put the/ pillow over my head/ because when they stop talking,/ I know what that means./ Uggghh!" This happens a couple of times throughout the book.
JB and Alexis walk into the cafeteria, and she's "holding his/ precious hand."
JB and Alexis kiss in the library, and Josh sees them.
JB tells Alexis "how much she's/ the apple of/ his eye/ and that he wants/ to peel her/ and get under her skin."
Josh says, "Even Vondie/ has a girlfriend now…She's a candy striper/ and a cheerleader/ and a talker/ with skinny legs/ and a big butt/ as big/ as Vermont."
Violence
Josh has long dreadlocks while JB has a shaved head, so JB plays with Josh's locks. Josh "slap[s] him/ across his bald head/ with [Josh's] jockstrap."
JB accidentally cuts off five of Josh's locks of hair. Josh gives JB several noogies over the course of a few interactions.
Josh nearly breaks JB's nose with a hard pass during a basketball game. He does it on purpose because he's upset with JB, and Josh is suspended from the team. The description is only a couple of words.
Drugs and Alcohol
Crystal's younger brother "smokes cigars."
Language
The younger characters occasionally use rude terms such as crunking, stupid, and jerk.
When Josh narrates his plays, he talks big about his game. This leads to him occasionally threatening physical contact during the game. For instance, Josh says, "Man, take this THUMPING."
Josh's nickname is "Filthy McNasty."
JB suggests a bet against Josh. Josh responds with, "You can cut my locks off,/ but if I win the bet,/ you have to walk around/ with no pants on/ and no underwear/ at school tomorrow."
JB responds with, "if you win,/ I will moon/ that nerdy group/ of sixth-graders/ that sit/ near our table/ at lunch?"
Supernatural
Spiritual Content
JB only went to one basketball summer camp because "he didn't want to miss Bible/ school."
The Bells go to church on Sundays before basketball. Josh says, "When the prayers end/ and the doors open/ the Bells hit center stage," meaning the basketball court.
by Alli Kestler
---
"The sky is your limit, sons. Always shoot for the sun and you will shine," Chuck "Da Man" Bell. —The Crossover