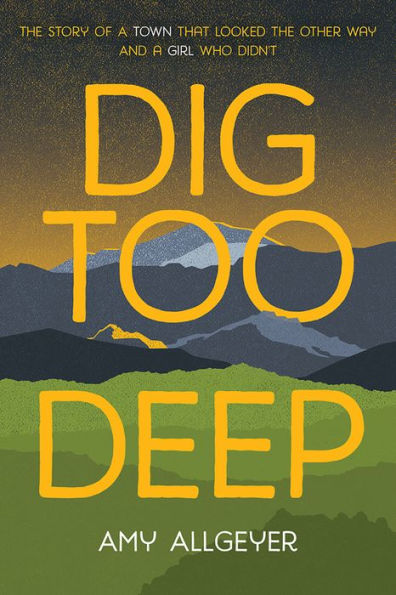 Buy This Book
---
---
"And that's when I see it. Or rather, don't see it. Tanner's Peak. The whole top of the freaking mountain … it's just gone." – Liberty Briscoe
Dig Too Deep
by Amy Allgeyer
Diverse Characters, Strong Female Character
At A Glance
Interest Level

13+
Entertainment
Score
Reading Level
3.9
Liberty is an independent teenager. She cooks, cleans, maintains a perfect GPA, plays volleyball, and applies for scholarships all by herself. However, her seemingly perfect life is turned upside down after her political activist mother is arrested on suspicion of being involved in a Washington DC car bombing. Her perfect life and her hopes of attending Georgetown are trashed. When her mother is sent to prison, Liberty is sent to Ebbottsville, a small town in rural Appalachia, to live with her grandmother. Liberty lived in Ebbottsville when she was a child, but now the top of Tanner's peak is gone and the town's water is neon orange.
Out of her comfort zone and away from her best friend, Liberty has to live in poverty and help her ailing grandmother suffering from lung cancer. At school, she is mocked as the "new girl" and she has a hard time adjusting to rural life when everyone seems to instantly hate her. However, Liberty quickly learns that her grandmother's condition may have been caused by the infamous Peabody mining company's mountaintop mine. Liberty soon finds herself in a fight with an infamous mining tycoon who will stop at nothing to keep his grip on the community. Will Liberty beat Peabody or will he silence her forever?
Poor, run-down, and alone – Allgeyer paints the perfect picture of a troubled girl against an unstoppable corporation in Dig Too Deep. Liberty is a good example for young girls, encouraging them to have a strong moral center and to take a stand when they feel something is wrong or unfair no matter the risk. Liberty takes time away from her own personal goals to care of her sick grandmother, which highlights the importance of loving with all of your heart. Liberty also shows forgiveness when she accepts her mother back into her life.
Dig Too Deep raises questions about modern-day mining practices and shows some harsh consequences of corrupt mining. The book brings environmental issues to young readers, encourages them to think about others, and research other environmental problems affecting our world.
Dig Too Deep has a quick and suspenseful plot with a perfect mix of teenage angst and real-world problems. Readers will not be able to put the book down because of the nonstop suspense. Liberty is a relatable character that readers will root for as she fights a corrupt mining organization. However, Allgeyer does push the extremes of young adult fiction and due to its intense sexual content, violence, and language, this book is best for older readers. Nonetheless, Dig Too Deep is a great book for those looking for a strong female character or for a book that discusses modern-day environmental issues.
Sexual Content
Liberty and Cole go to a party and sit by a bonfire where they kiss before being interrupted by Cole's friend, Dobber. Liberty describes the kiss. "When our lips touch, warmth shoots through my body. I don't feel the wind. I don't feel the fire – just Cole's lips and his tongue, teasing mine. His hands slide up, and I tense, thinking he's going to grab my boob, but he touches my face instead, the back of my neck, pulling me into him."
Liberty thinks Cole's "kisses are absolutely the best thing about this place – all soft, warm, and Tic-Tac-y."
Cole invites Liberty over to his house where things get spicy after he spills beer on her lap. After she throws her pants in the dryer and puts on some gym shorts, Liberty "can feel the heat of his body on my skin, his angles, hollows, and points. He's doing that thing again, that feels so good – but also scary. I'm way, way outside my comfort zone." This scene takes place over six pages where Liberty becomes partially undressed. Liberty is not comfortable or ready for sex, and they do not have sex. She leaves after her pants are dried.
Dobber and Liberty kiss two times in the novel. Once, when trying to avoid suspicion from Peabody, Dobber "leans toward me, puts one hand on the side of my face. . . and the other over my mouth. Then he kisses his hand."
Violence
Cole explains that Dobber's dad has an ankle bracelet on because he "attacked a guy in town" and "tried to strangle him. It took four men to pull him off."
Liberty's mother was arrested on suspicion of being involved in a New York car bombing. Liberty says that her mom can "blow up whatever she wants to."
Cole refuses to let her go until she promises she will stay out of the mine's business, so Liberty makes her free hand into a fist, and punches "Cole square in the face." Liberty breaks her finger and Cole is bleeding out of his eye.
Liberty finds out what a rope dog is when she sees "Patient old Goldie hanging from a noose."
Peabody's men are hunting Dobber and his dad down with guns. "They're not after Liberty. They're after you. Dobber…" Cole stares him in the eye. "They have guns." Dobber and his dad hide in Liberty's house and Peabody's men never find them.
After extorting Peabody, Dobber punches him in the face. "Peabody's head snaps back before I realize Dobber punched him."
Drugs and Alcohol
At a party, Liberty watches as "Three girls sitting at a picnic table pass around a bottle of pink wine."
When Cole invites Liberty to his house, he offers her a beer. Liberty takes "the can Cole hands me and he pops the top, misting me with Wittbrau Light."
When Liberty asks Dobber's dad questions about the mine, "Mr. Dobber opens the refrigerator and pulls out a beer." He even offers one to Liberty, who refuses.
Dobber's dad is an alcoholic and meth addict—Dobber tells Liberty that "the first day was the worst. I had to strap him down. But he ain't had no drugs or alcohol in four days." Dobber insists that his dad is changing and getting clean because of Liberty's fight against the mine.
Language
Profanity is used in the extreme and is on almost every page. Profanity includes: ass, fuck, motherfuck, shit, hell, bitch, Oh my God, goddam bastard, and donkey balls.
Liberty's cab driver won't drive her all the way up to her house. She pays "him seven dollars, call him chickenshit under my breath, and haul my backpack and suitcases a quarter mile up the hill."
Granny describes Liberty's father. "Worthless piece o' work ran his sorry ass out of town the same night Jess told him the news."
On their way to the party, Cole looks over at Liberty and says "Shit, you're probably freezing." Then he hands her a blanket.
Dobber's father calls Dobber a jackass.
Cole jokingly says he wants Dobber to go far far away and Dobber replies "Did I ask you, butthead?"
A girl warns Liberty about Cole. The girl says "He'll shit on you just like he shit on every other girl he's dated." Liberty thinks the girl is a "bitch."
Liberty calls her Granny an old bat and Granny mumbles "Old bat, my ass."
At lunch, Dobber calls Peabody a 'special kind of shit' and Cole thinks that's "bullcrap."
"Oh my God," Liberty exclaims when Cole tries to convince her the water is safe to drink.
After Granny is diagnosed with stage four lymphoma, Liberty thinks, "But my world's far from perfect, and my one parent went AWOL, taking all my money and, with it, our only chance to escape this fucking toxic mountain."
"What the hell?" Cole exclaims after Liberty punches him.
Dobber's dad flips Liberty off when she leaves his house.
Dobber calls Mr. Peabody a "Mother fucker" when he sees him at the commissioner's meeting.
After her speech to the commissioner did not go so well, Liberty says, "That bastard has the whole commission under his thumb!"
Dobber says his dad's cancer, "sucks donkey balls."
"Goddam Peabody" is a common expression used by Granny and Liberty. Liberty later adds to it, saying, "Fuck you, Peabody."
Supernatural
Spiritual Content
For Liberty's first meal in her grandmother's home, she has to say grace. "God is great. God is good. Let us thank him for our food. By his hands, we are fed. Give us Lord, our daily bread. Amen."
Throughout the book, Liberty goes to church. Liberty describes church saying, "But I like it. Even the sermon, which always lasted forever when I was little, flies by, and before I know it, the preacher is announcing the final song."
Granny tries to calm Liberty during her X-rays, saying "Whatever happens to me, the good Lord says if you build your house on solid rock, you gon' be okay."
Liberty and her Granny are very poor and have to live off food stamps. She describes grocery shopping as recreating "the miracle of the loaves and fishes at Kroger today."
After she is diagnosed with cancer and she starts experiencing intense pain, Granny "reaches for her Bible. As I close the door, she's opening the book to random pages and reading whatever her finger lands on. I hope whatever she finds brings her some comfort."
by Matthew Perkey
---
"And that's when I see it. Or rather, don't see it. Tanner's Peak. The whole top of the freaking mountain … it's just gone." – Liberty Briscoe