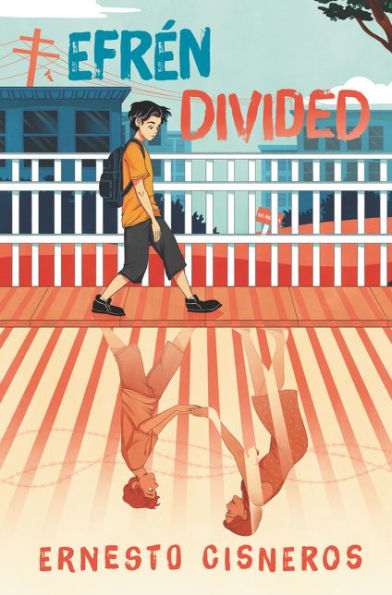 Buy This Book
---
---
"You taught me that the color of my skin doesn't matter. Only now, this school—heck, the whole world, needs to be reminded," David. –Efrén Divided
Efrén Divided
by Ernesto Cisneros 
AR Test
At A Glance
Interest Level

8+
Entertainment
Score
Reading Level
4.5
Efrén Nava's Amá is his superwoman—or Soperwoman, named after the delicious Mexican sopes his mother often prepares for the family. Both Amá and Apá work hard all day to provide for the family, making sure Efrén and his younger siblings, Max and Mia, feel safe and loved.
But Efrén worries about his parents; although he's American-born, his parents are undocumented. And according to the neighborhood talk, families like his are in great danger. Sure enough, Efrén's worst nightmare comes true one day when Amá doesn't return from work and is deported across the border to Tijuana, Mexico.
Now it's up to Efrén to be brave and figure out how to act soper himself. While Apá takes an extra job to earn the money needed to get Amá back, Efrén struggles to look after Max and Mia while also dealing with schoolwork, his best friend's probably-doomed campaign for school president, and his fears about what might happen to his family next.
When disaster strikes, Efrén is faced with crossing the border alone to see Amá. More than ever, he must channel his inner Soperboy to help him keep his family together.
Efrén Divided shows the struggle of undocumented workers from a middle schooler's perspective. Efrén's story does not discuss the politics of immigration, but instead focuses on Efrén's struggles. Efrén worries about his parents being deported because they live in a country that does not want them. When Efrén's mother is deported, Efrén feels shame and confusion. However, Efrén's story doesn't just focus on his family life. The reader also gets a glimpse of Efrén's school life, which gives the story additional depth and shows how being in the country illegally affects many people.
While the story is engaging, readers may have a difficult time understanding some of the dialogue. When characters speak in Spanish, there are not always context clues to help readers understand the words' meanings. However, the back of the book contains a glossary of Spanish words. Additionally, the conclusion has several events that seem out of place because they are not natural extensions of the story.
Efrén Divided uses an engaging story to shine a light on the difficulty that American-born children face when their parents are undocumented. The story makes many references to The House on Mango Street, which may make readers want to also read that book. The story highlights the importance of family and friends, as well as the need to "surround yourself with good people. People who will bring out the good in you. Not the bad." Readers who enjoy Efrén Divided should also check out New Kid by Jerry Craft and When Stars Are Scattered by Victoria Jamieson.
Sexual Content
Violence
Efrén's brother, Max, pees on his clothes. Efrén tries to put him in the bathtub, but Max "pulled on Efrén's hair and swung his legs wildly. One of his kicks nailed Efrén in the jaw, causing him to bite his lip."
 Drugs and Alcohol
Efrén's friend, David, now lives with his grandmother because his mom drank a lot.
When Efrén goes to Mexico, he follows signs advertising beer.
In Mexico, Efrén meets a man who tells him about the drug cartels.
Language
"Oh my God" is used as an exclamation 6 times.
Heck is used once.
Some of the kids call David "El Periquito Blanco" which means the white parakeet.
Supernatural
Spiritual Content
Efrén and his family bless themselves.
When Efrén and his father are going to San Diego, they have to pass a checkpoint. Efrén prays, "Please, God, . . . let it be it closed. Let it be closed."
When they pass the checkpoint, Efrén "bless[es] himself—this time thanking God for everything He'd given him." Then, Efrén lists what he is thankful for.
Efrén and his father talk about going to mass to give thanks. The next morning, they go to mass, which "felt a bit more special than usual." The family prays, but the specific prayer is not mentioned.
---
"You taught me that the color of my skin doesn't matter. Only now, this school—heck, the whole world, needs to be reminded," David. –Efrén Divided