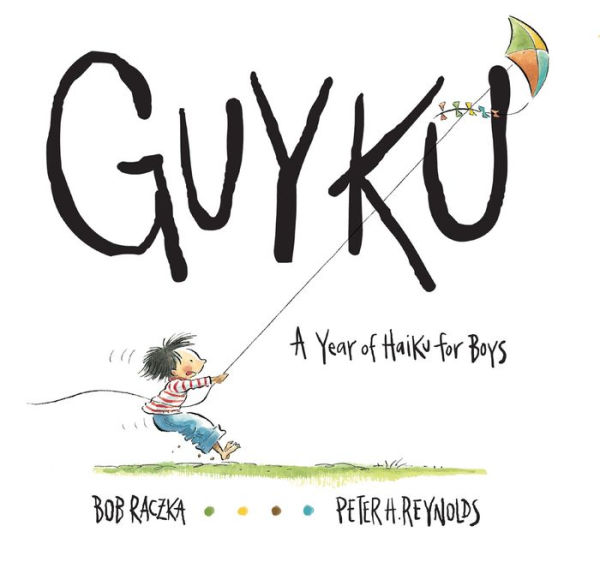 Buy This Book
---
---
"In a rushing stream, we turn rocks into a dam. Hours flow by us," Bob Raczka. —Guyku
Guyku: A Year of Haiku for Boys
by Bob Raczka
AR Test, Diverse Characters, Must Read
At A Glance
Interest Level

4 - 7
Entertainment
Score
Reading Level
2.6
Guyku is the right story for little guys on the move!
The collection of poems captures moments of childhood across the four seasons. From fishing to throwing snowballs to playing in leaf piles, Guyku touches on the wide variety of outdoor activities that kids can do. The book is written for boys, like the title suggests, but it is applicable to all children.
Poetry can have a reputation that it is something you give to advanced readers. However, Guyku flips that notion on its head and helps young readers learn through poetry. Because each poem occupies a full page, the poems are not daunting for new readers.
Raczka and Reynolds are an author-illustrator team who are very much on the same page. The pen, ink, and watercolor illustrations capture the simplicity of the poems and the Earth-toned colors take the reader outdoors. These illustrations accompany every poem, and context clues will help struggling readers make sense of the poems. The art is subtle and encourages the reader to explore the meaning of the poem and ask questions. The eye-catching illustrations will make you laugh as you watch boys, and girls explore the outdoors and enjoy childhood. While the book is generally goofy, the illustrations do not shy away from showing an array of emotions from glee to sadness and boredom to enthrallment. Guyku does a good job of normalizing the range of feelings that people encounter, but there is an emphasis on the excitement and wonder of childhood.
Haiku poems are only three lines long; they have five syllables in the first line, seven in the second line, and five in the third line. A haiku is an observation of nature, and nature is a playground for children. The poems do not take long to read, but sometimes more can be said in a haiku than a whole novel. One of the primary rules of a haiku is that it is written in the present tense. Whatever is happening in a haiku, is happening right now! For children who are wrapped up in the moment, the format of the poem lends itself to being active. The book can serve as inspiration for the wide variety of games that can be played, activities to do with friends, and ways to interact with the outdoors.
Guyku is for kids and about kids. All of the characters are children who are doing what children do best, playing! While the poetry moves quickly and the illustrations are fun, there is a reflective part to these poems. The book encourages children to place themselves within all of the great things the outdoors has to offer and brings into question how the outdoors makes the reader feel. It is likely that a child will see themselves in the characters of the book. Guyku encourages outdoor activity in a positive way.
Sexual Content
Violence
Drugs and Alcohol
Language
Supernatural
Spiritual Content
by Paul Gordon
---
"In a rushing stream, we turn rocks into a dam. Hours flow by us," Bob Raczka. —Guyku