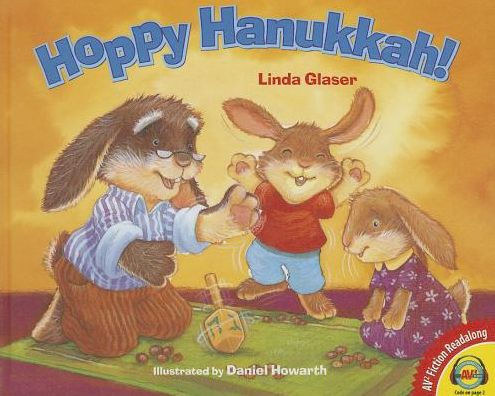 Buy This Book
---
---
"My little bunnies! You know what really makes it feel like Hanukkah? You!" Mama. –Hoppy Hanukkah  
Hoppy Hanukkah!
by Linda Glaser
AR Test, Picture Book
At A Glance
Interest Level

5+
Entertainment
Score
Reading Level
1.6
Violet and Simon, two small bunnies, are excited about Hanukkah. Simon is ready to light all the candles and then blow them right out! But Mama and Papa explain how to celebrate Hanukkah by lighting one candle each night at sunset and placing the menorah in the window for all to see. Grandma and Grandpa come over too, and there are latkes, presents, and a dreidel game.
Violet and Simon's excitement is perfectly portrayed. The two bunnies are introduced to the traditions of Hanukkah as the family talk about what makes it feel like Hanukkah. Even though the story shows Hanukkah traditions, the book does not explain their significance. The cute conclusion has the mother bunny tucking the kids into bed as she says, "My little bunnies! You know what really makes it feel like Hanukkah? You!"
Hoppy Hanukkah illustrates the cute rabbit family in brightly colored pictures. Several of the pictures use thought bubbles so readers can see what the little rabbits are thinking. The illustrations show the importance of family and the Hanukkah traditions. The story has 1-5 sentences on each page, which makes Hoppy Hanukkah a good story to read aloud. Hoppy Hanukkah would be an excellent book to introduce Jewish customs without going into the history of the traditions.
 Sexual Content
Violence
Drugs and Alcohol
Language
Supernatural
Spiritual Content
---
"My little bunnies! You know what really makes it feel like Hanukkah? You!" Mama. –Hoppy Hanukkah