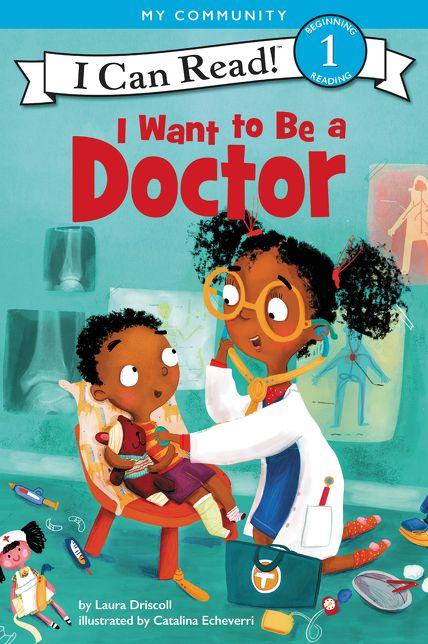 Buy This Book
---
---
"Our work is like solving mysteries," Dr. Lopez. –I Want to Be a Doctor  
I Want to Be a Doctor
I Can Read Book 1 Series
by Laura Driscoll
AR Test
At A Glance
Interest Level

5+
Entertainment
Score
Reading Level
2.1
Jack jumps off the bed and breaks his foot. His whole family—dad, mom, and sister—go with him to the emergency room. While Jack and his mom go into the exam room, his dad and sister go on a field trip through the hospital. In the process, his sister learns about all kinds of doctors.
Young readers will enjoy exploring a hospital and meeting friendly doctors who want to help people feel better. The story blends narrative and nonfiction elements to create an educational story perfect for young readers. Readers will learn about nine different types of doctors including, a dentist, a physical therapist, and a pediatrician. The last page of the book has an infographic listing the different types of doctors and what they do.
I Want to Be a Doctor is part of the I Can Read series that introduces young readers to important community helpers. Another positive aspect of the book is the brightly colored illustrations that show a large cast of hospital employees who are diverse and friendly. Each page has four or fewer sentences typed in oversized text. The short sentences and familiar words make the book perfect for children learning to sound out words and sentences. I Want to Be a Doctor will delight little readers who are curious about hospitals and doctors. Readers who want to learn more about doctors should check out the picture book, The Doctor With An Eye for Eyes: The Story of Dr. Patricia Bath by Julia Finley Mosca.
Sexual Content
Violence
 Drugs and Alcohol
Language
Supernatural
Spiritual Content
---
"Our work is like solving mysteries," Dr. Lopez. –I Want to Be a Doctor