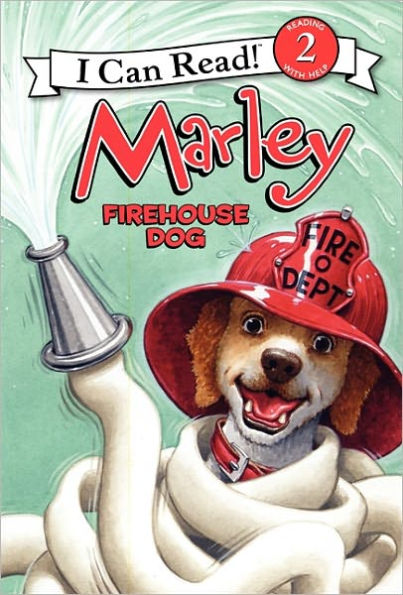 Buy This Book
---
Marley Firehouse Dog
I Can Read Book 2 Series
by John Grogan
AR Test
At A Glance
Interest Level

6+
Entertainment
Score
Reading Level
2.1
When Marley and his family are out for a walk around town, they are pleased to be invited into the fire station for a tour! Unhappily, Marley has to stay behind . . . or at least, that's what his family says. Before long, Marley has chewed through his leash and is leading his own tour of the firehouse. From the kitchen to the garage, Marley is hot on the trail for some mischief!
Firehouse Dog gives readers a glimpse behind the walls of a firehouse. When Marley sneaks into the firehouse, he makes quite a mess as he inspects the sleeping quarters, the classroom, and the kitchen. Readers will laugh as the fire chief tries to find out which one of the firefighters made such a mess. The cute conclusion shows Marley dressed as a firefighter. In the end, the firefighters and Marley's family both help clean up the messy firehouse.
Young readers will fall in love with Marley, a mischievous dog, who becomes a fire dog for the day. Each page of Firehouse Dog has a large, brightly colored illustration that will help younger readers visualize the story's actions. The story showcases a traditional family unit and their adorable dog Marley. Each page has 24 or fewer words. The story uses longer sentences and has some challenging words that readers may need help with.
Firehouse Dog is an engaging story that shows positive interactions between the characters. Even though Marley makes quite a mess, no one scolds him. Instead, everyone works together to clean up the mess—even the fire chief and the youngest family member. Even though Marley is featured in over 20 books, the books do not need to be read in order. The wonderful illustrations and fun plot make Firehouse Dog a good choice for young readers.
Sexual Content
Violence
 Drugs and Alcohol
Language
Supernatural
Spiritual Content