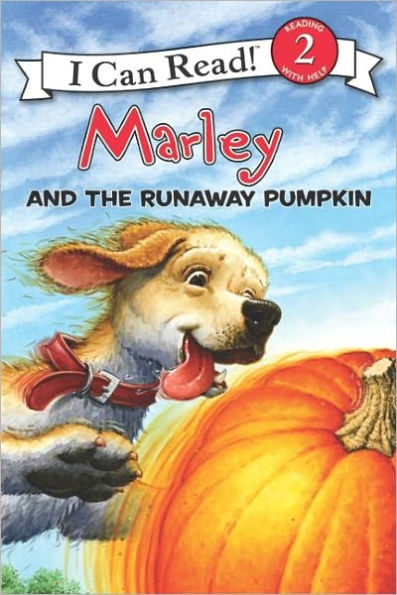 Buy This Book
---
---
"When life gives you lemons, make lemonade. And when life gives you smashed pumpkins, make pie," Mommy. –Marley and the Runaway Pumpkin
Marley and the Runaway Pumpkin
I Can Read Book 2 Series
by John Grogan
AR Test
At A Glance
Interest Level

6+
Entertainment
Score
Reading Level
2.5
Marley's family has spent the summer taking care of their pumpkin. They hope their pumpkin wins a blue ribbon at the county fair. But when Marely's family rolls the pumpkin into the truck, Marley breaks his leash and jumps on the pumpkin. The pumpkin runs down the street. The pumpkin crashes into garbage cans, takes a ride on a scooter, and almost runs over the mailman. The pumpkin finally crashes and smashes into a tree.
Marley's family is disappointed that the pumpkin can no longer be entered into the contest. But Mommy has an idea! "When life gives you lemons, make lemonade. And when life gives you smashed pumpkins, make pie." The family enters the pumpkin pie into a contest and wins first place. Cassie says, "It was a blue-ribbon pumpkin after all."
Marley doesn't mean to cause mischief, but his curiosity causes trouble. Throughout the story, Marley's family uses creative solutions to solve their problems. When Marley smashes their pumpkin, the family comes up with another plan. While the conclusion is unrealistic, the happy ending implies that Marley has been forgiven and that his family still loves him.
Young readers will relate to Marley, who accidentally gets into trouble. The plot comes alive through large, brightly colored illustrations that appear on every page. Each page has 43 or fewer words. The story uses longer sentences and has some challenging words that readers may need help with. Even though Marley is featured in over 20 books, the books do not need to be read in order.
Marley and the Runaway Pumpkin is a fun fall story that teaches the importance of thinking creatively. If you're ready for colorful leaves falling and the smell of pumpkin pie, Marley and the Runaway Pumpkin will help readers get into the mood to enjoy fall's delights.
Sexual Content
Violence
 Drugs and Alcohol
Language
Supernatural
Spiritual Content
---
"When life gives you lemons, make lemonade. And when life gives you smashed pumpkins, make pie," Mommy. –Marley and the Runaway Pumpkin