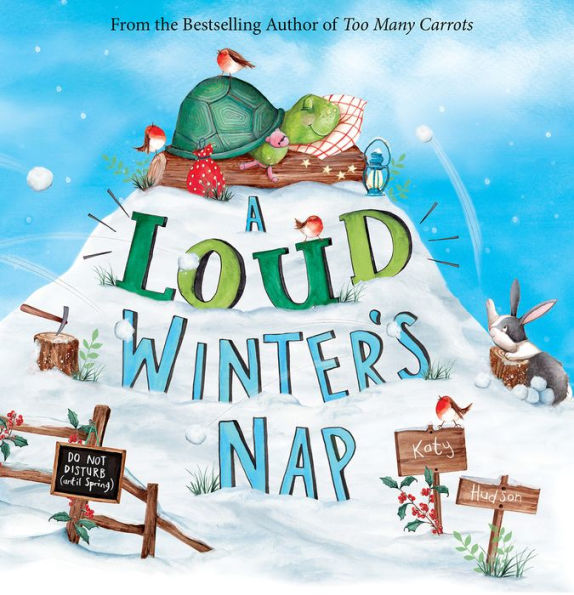 Buy This Book
---
---
"Maybe winter is more than cold and snow," Tortoise. –A Loud Winter's Nap
A Loud Winter's Nap
by Katy Hudson
AR Test, Must Read, Picture Book
At A Glance
Interest Level

3 - 5
Entertainment
Score
Reading Level
1.9
Tortoise is set in his ways. He doesn't like winter. He's been planning his long winter nap, and now he's ready to find a peaceful place to snuggle up. Tortoise has his pillow, his teddy bear, and his ear plugs. But what will tortoise do when the robins create a ruckus with their winter singing class?
Readers will giggle as Tortoise tries successfully to find a peaceful sleeping spot. But every time he snuggles down to sleep, a different forest animal wakes him up – from the playful squirrel who invites him to a snowball fight to the beaver who chops down the tree he's sleeping in. Tortoise just doesn't understand winter fun. All he knows is that "tortoises just don't like winter!"
A Loud Winter's Nap is a beautifully illustrated picture book that explores the joy of winter. Rabbit noisily creates an ice sculpture. Squirrel starts a snowball fight with the sleeping tortoise. Colorful illustrations add little details that will delight readers. Each animal is adorably cute and has expressive facial expressions. Readers will enjoy finding Tortoise's teddy bear in each picture.
The text includes onomatopoeia words and repetition that will capture young readers' attention. With four or fewer sentences per page, A Loud Winter's Nap would be a fun story to read aloud. Readers will want to grab a blanket, a teddy bear, and curl up with this fun book. A Loud Winter's Nap will become many children's favorite winter book.
 Sexual Content
Violence
Drugs and Alcohol
Language
Supernatural
Spiritual Content
---
"Maybe winter is more than cold and snow," Tortoise. –A Loud Winter's Nap