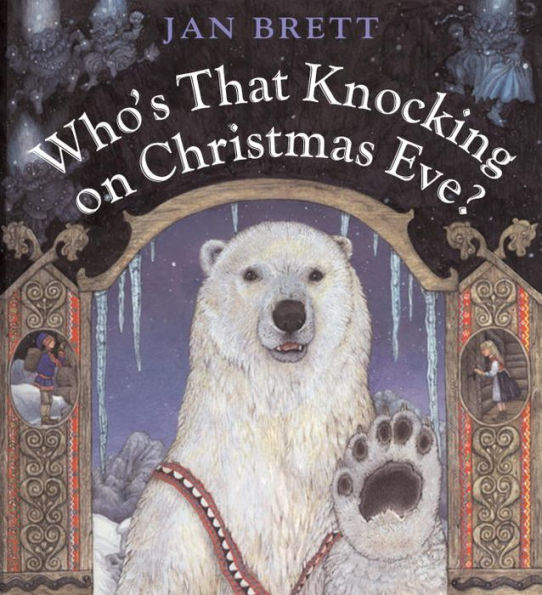 Buy This Book
Buy This Series
---
Who's That Knocking on Christmas Eve?
by Jan Brett
AR Test, Picture Book
At A Glance
Interest Level

4 - 8
Entertainment
Score
Reading Level
4.3
Who's knocking on Christmas Eve? Kyri is afraid that it's the trolls that come every year and gobble up Kyri's Christmas feast. Kyri hears someone knocking and when she peeks out the window, she sees a boy from Finnmark. Kyri lets the boy and his bear in, then quickly closes the door.
The next time Kyri hears knocking, she knows it's the trolls. Kyri and the boy from Finnmark try to keep the trolls outside, but the trolls are able to sneak in. The hungry trolls chase Kyri and the boy outside. As the trolls eat Kyri's Christmas dinner, Kyri wonders if anyone will be able to save it.
Beuer brings a Norwegian fairytale to life with her beautiful illustrations. Each picture is detailed and includes side panels, borders, and a lot of winter landscapes. The artwork is beautiful, but the trolls may be frightening for younger readers. In order to fully grasp the story's illustrations, readers must look at the decorative side panels that focus on the different characters.
Who's That Knocking on Christmas Eve? is not a typical Christmas story. Although the story takes place in winter, the focus is on the mischievous trolls who want to gobble up dinner. Some readers may be frightened by both the trolls and the polar bear that chases them away. Even though Who's That Knocking on Christmas Eve? is a picture book, it is intended to be read aloud to a child rather than for the child to read it for the first time independently. Each page has four or fewer lines of text. The complex sentences and detailed pictures will require readers to take their time to enjoy the story. Even though the story is not well-developed, readers will enjoy the pictures and the conclusion of Who's That Knocking on Christmas Eve?
Sexual Content
Violence
Drugs and Alcohol
Language
Supernatural
Spiritual Content