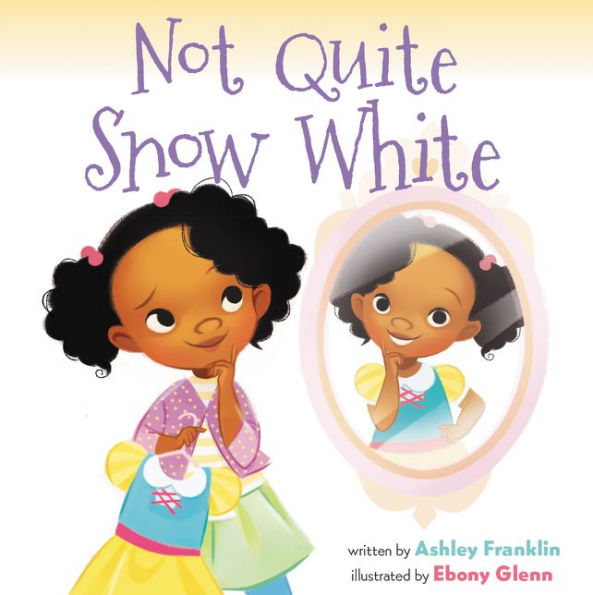 Buy This Book
---
---
"Snow White is just pretend. You've always been my real princess," Dad. –Not Quite Snow White  
Not Quite Snow White
by Ashley Franklin
AR Test, Diverse Characters, Picture Book
At A Glance
Interest Level

4 – 8
Entertainment
Score
Reading Level
3.2
Once upon a time, there was a girl who wanted nothing more than to play Snow White in her school's musical.
Excited, Tameika dances and sings her way through the halls. But on the day of auditions, she overhears some kids suggesting that she is not princess material. Tameika suddenly doesn't feel quite right enough to play a perfectly poised princess.
Will Tameika let this be her final curtain call?
Readers will instantly connect with Tameika, who loves all types of dance including "a hip-rolling happy dance. . . A stomping mad dance. And a hair-flicking just-because-she-felt-fabulous dance." At first, Tameika feels confident, until she overhears her peers talking about her. The other kids make comments like, "She can't be Snow White. She's too tall! She's much too chubby. And she's too brown." Hearing these words makes Tameika feel self-conscious and doubt her ability.
Not Quite Snow White shows how Tameika's peers' whispered words affect her. Tameika's mother encourages her by saying, "You are tall enough, chubby enough, and brown enough to be a perfect princess." Parents may want to use Not Quite Snow White as a discussion starter. They could talk about Tameika's facial expressions and how it feels to be the subject of mean words.
Tameika's love of dance and music comes to life in adorably cute illustrations that use bright colors.  Some of the illustrations focus on Tameika and her family, who are African American. At school, the children and teachers have a variety of skin tones. Each page has 1 to 4 sentences. Even though the vocabulary isn't difficult, young readers will need an adult to read Not Quite Snow White to them.
Not Quite Snow White will engage young readers while it teaches the importance of loving yourself. Any child who loves Disney will relate to Tameika, who does not look like the stereotypical Disney princess. Despite what others say, Tamika realizes she can still be a "perfectly poised princess." Not Quite Snow White reinforces the idea that "you're just enough of all the right stuff." Not Quite Snow White may become one of your child's favorite books not only because of the fun illustrations but also because of the feel-good message.
Parents and teachers who would like to read more books that build a child's self-confidence should add I Am Enough by Grace Byers and Angus All Aglow by Heather Smith to their must-read list.
Sexual Content
Violence
 Drugs and Alcohol
Language
Supernatural
Spiritual Content
---
"Snow White is just pretend. You've always been my real princess," Dad. –Not Quite Snow White