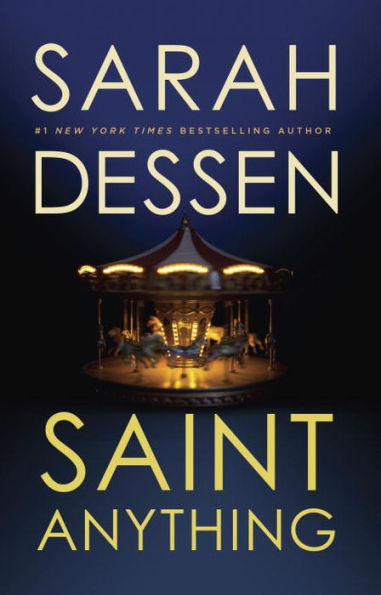 Buy This Book
---
---
"You never knew what lay ahead; the future was one thing that could never be broken, because it had not yet had the chance to be anything," Sydney. —Saint Anything
Saint Anything
by Sarah Dessen
AR Test, Good for Reluctant Readers
At A Glance
Interest Level

12+
Entertainment
Score
Reading Level
4.7
Sydney's older brother, Peyton, holds the spotlight in their family—first for his charm, and then for his stints in rehab and his poor decision-making skills. When he lands in prison after hitting a young boy while drinking and driving, the spotlight turns on Sydney. With this new scandal, she decides to switch schools, hoping for anonymity and a chance to start over.
She starts over by becoming friends with the Chatham family, a family that shows Sydney what it looks like to have parents who are present and supportive and friends who accept you for you. Dessen does all this without feeling cheesy or unrealistic. Readers will see the lesson shown when Sydney is finally able to stand up for herself and the people she loves. Readers will appreciate the character development of Sydney as well as her parents.
Saint Anything is a heartfelt story that doesn't only focus on romance but also captures the ups and downs of real life. With just the right amount of romance, suspense, and family drama, Saint Anything explores Sydney's personal growth as she deals with tragedy.
Sydney's character is genuine and relatable. Her story explores the complicated nature of family relationships. Readers will walk away feeling satisfied at having read a story that not only had a well-developed plot, but also realistic characters and an engaging conflict. The realistic dialogue and uncomplicated vocabulary make for an easy-to-read, engaging story.
Dessen writes a beautiful story that focuses on dealing with grief, guilt, and loneliness. The heart-warming story, with well-developed characters, shows readers the importance of becoming comfortable in your own skin. Saint Anything is the perfect book for those looking for a sweet romance that focuses on family and friendship.
Sexual Content
Margaret says to her friend, "Thank me forever for hooking you up with the guy you're crazy about?"
Margaret walks up the stairs with a boy, implying that they are going to have sex. She asks Sydney what she is doing, and Sydney thinks, "Considering she was alone with the guy Jenn had clearly stated she was crushing on, in Jenn's house, on her way to where there were only bedrooms, I wanted to ask her the same thing."
While on a walk in the woods, Mac and Layla kiss. "I took my hand from Mac's, then reached up to touch his cheek. When I did, his fingers moved to my waist, pulling me in closer. It was fluid and easy, like everything had been since we'd met, as I stood on my tiptoes and finally, finally kissed him."
Layla thinks about Mac while reflecting on their new relationship, "Not just that he was a good kisser (very good, actually) and had the tightest set of abs I'd ever seen or touched."
When Layla and Mac say goodbye, "he leaned in, kissing me once on the lips, then on the forehead. I felt safe enough to close my eyes."
Spence and Layla kiss before going downstairs to the recording studio. As Spence is headed towards the studio, Layla "allowed herself to be pulled in for a kiss. To her surprise, not to mention mine, it quickly became open-mouthed and full-on tongue."
Sydney's mom speaks of Mac, "enunciating his name like you might the word herpes or molestation."
Violence
Sydney's brother is in jail. He was driving under the influence and hit a young boy riding his bike, "head-on." The accident is not described.
Margaret is speaking to Sydney about her public school and says, "I hear there are fights there every day. And that's with the girls."
A boy attempts to sexually assault Sydney. "He grabbed my wrists. . . then tightened his grip on my wrists, pushing them back, back, against my ears. That was when I got scared. . . I tried to turn my head as he put his lips on mine, squeezing my eyes shut, but he grabbed my face, jerking me back to face him. I could feel his fingers digging into my chin. . . but then my palm was connecting with his face, the sound of skin to skin loud, a smack, and he stumbled backward. . ." Sydney's dad stops the attack. ". . . I saw my dad. He had one arm hooked around Ame's neck, tight, the fist clenched, and was pulling him backward down the hallway, away from me."
Drugs and Alcohol
In the beginning, Sydney explains the backstory of how her brother ended up in jail. She describes a background of breaking and entering, smoking pot, and possession of pills in his locker.
Peyton's friend has a habit of smoking cigarettes. He would "duck out occasionally to the garage to smoke cigarettes, using a sand-bucket ashtray my mom (who abhorred the habit) put out."
Peyton "drank several beers, took a few shots," and then "got into his car, and headed home."
In the past, Rosie became addicted to Vicodin that the doctor prescribed to her for a knee injury. She got into trouble when she attempted to get more by faking her prescriptions. "She got a bit too fond of the Vicodin they gave her. Tried to pass off some fake prescriptions."
When Jenn's parents are out of town, Margaret, Jenn, Meredith, and Sydney drink piña coladas. Meredith and Sydney are not fans of alcohol, but they stay to make sure Jenn is okay. Jenn drinks too much and Sydney helps her to bed.
A newspaper story speaking about Peyton's past states, "After a string of arrests for breaking and entering and drug possession, among other things, he'd completed a stay in rehab and had been sober for over a year. But on that February night, after an evening spent drinking and getting high. . ."
Layla and her friends go into the woods behind their house and drink one or two beers before coming back home. Irv says, "Beer me, someone."
Layla's boyfriend has started taking drugs. Layla tells Sydney the extent of it. "Just pot. Some pills. They make him different. But when I nag him, he gets mad, then doesn't answer my texts."
When Layla's boyfriend shows up at her house, she "got a strong whiff of alcohol."
While in the recording studio, Spence, "proceeded to drink most of his bottle of vodka."
Language
"Oh, my God" and "My God" are used several times as exclamations.
Layla's dad says, "Blah my ass," and then apologizes for his language.
Rosie flips another character off.
Layla speaks about her brother's ex-girlfriend. "She was a mean hippie. Who even knew such a thing existed? Bitch."
Supernatural
Spiritual Content
Layla and her brother went to church when they were young. She speaks about meeting a friend "whom I'd known since our days at Trinity Church Preschool."
Mac explains that the pendant he wears around his neck is "actually a pendant of a saint." He explains further saying it is of "Bathilde. Patron saint of children. I guess she [his mom] figured we'd need all the help we could get."
Sydney thinks about Mac's mother, "Like my mom, she was that center of the wheel, with everyone connected drawing strength from her. She needed a saint of her own."
Mac and Layla deliver pizza. "At the next stop, we interrupted a teenage Bible study and were greeted at the door by a beaming girl with braces, who invited us in for a slice and some testimony. Even though we declined, she tipped generously. Jesus would have approved."
Mac speaks about saints and the pendant again, saying Mrs. Chatham "always liked the idea of protection, but especially since she got sick. I'm not wholly convinced. But I figure it can't hurt, you know?"
Mac speaks about saints and his mom. "But there are a few that can be applied pretty broadly. Like the saint of wanderers, travelers, the lost. Or whatever. . . My mom's favorite is Saint Anthony, the finder of lost things."
Sydney speaks about her saint pendant. "My Saint Anything. I liked the thought of someone looking out for me, whoever it might be. We all need protecting, even if we don't always know what from."
by Hannah Neely
---
"You never knew what lay ahead; the future was one thing that could never be broken, because it had not yet had the chance to be anything," Sydney. —Saint Anything