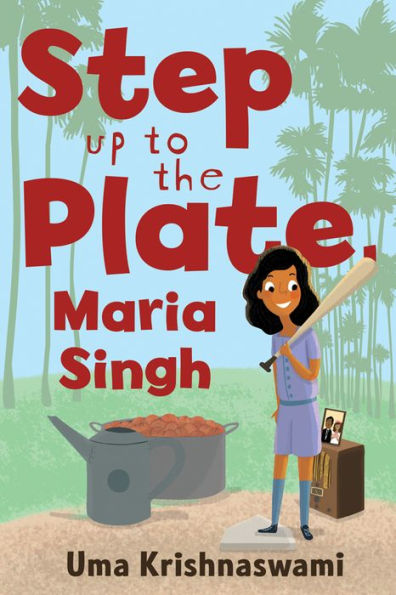 Buy This Book
---
---
"Maybe playing ball could keep your heart from breaking," Maria. –Step Up to the Plate, Maria Singh
Step Up to the Plate, Maria Singh
by Uma Krishnaswami
AR Test, Diverse Characters, Teaches About Culture
At A Glance
Interest Level

9+
Entertainment
Score
Reading Level
4.6
Maria is a nine-year-old growing up during WWII in Yuba City, California. Like most of the families in her community, her father is from India and her mother is from Mexico. Maria spends her time going to school, collecting tin cans for ration stamps, watching her younger brother, Emilio, and helping around the farm, but what she really dreams of doing is playing softball. Luckily, her teacher has just started an all-girls softball team. While Maria learns lessons about teamwork and determination, she also faces prejudice and discrimination on and off the field. With a little help from her parents and her strong-willed aunt, Maria realizes people from different backgrounds may not be so different after all.
Step up to the Plate, Maria Singh gives a new perspective of discrimination and prejudice that existed during WWII.  Maria's parents are not American citizens, so they cannot own land and must rent their farm. This becomes a problem when their landlord decides to move. Maria is subject to racism, and she gets into a fight when a classmate calls Maria's friend a "dirty half-and-half." Through Maria's story, readers will understand how a culture can normalize prejudice. Although the racism and discrimination in the book occurred during WWII, readers will see that many of today's problems are similar.
Because Maria's parents are of different religions, the book focuses heavily on religion, which is a fundamental part of Maria's community. Although her household leans a little more towards the Catholic side, Maria's father talks about Sikhism and brings his family to a temple. Maria is not partial to either religion and includes both in her prayers. While Maria appreciates her parents' cultures, she doesn't feel they are completely her own.
Readers will relate to Maria as she tries to make sense of the world and find her voice. Maria is a relatable character who, like most people, has flaws.  Maria lies to her mother but then feels guilty. While playing softball, she learns the value of being a team player.  When she faces prejudice, she learns what it means to hate and the importance of forgiveness. Through Maria's eyes, readers will learn the importance of speaking up during difficult times.
Step up to the Plate, Maria Singh is a great way to introduce readers to this little-known part of history. The end of the book has an author's note that helps readers understand the story's context. Lovers of softball (or any sport) will identify with Maria's softball obsession and how she uses it as a means of escape and personal victory. This story also shows the value of sports as a means of bringing a community together.
Step up to the Plate, Maria Singh takes the reader into history and deals with difficult topics of immigration, racism, faith, and family. Despite the heavy topics, Step up to the Plate, Maria Singh tackles them in a way that is accessible to younger readers. History fans who love sports should add The Brooklyn Nine by Alan Gratz to their reading list.
Sexual Content
Violence
Maria's friend's father, Gian, dies in the war. Maria asks Papi if Gian has ever killed anyone, to which Papi doesn't respond. Gian's death prompts Maria and her friends to talk about their fathers getting drafted.
While she is supposed to be watching Emilio, Maria wanders off. Maria comes back to find Emilio and his friend play fighting, "slamming into each other with arms and legs and fists."
Elizabeth, a white girl, calls Janie a "dirty half-and-half." Janie retaliates by "throwing herself upon Elizabeth, grabbing her hair with both fists, pushing her down…scratching and pulling and tugging, and both of them shrieking."
When Maria is up to bat, Elizabeth purposely pitched overhand to try and hurt Maria. Maria realized too late how hard Elizabeth was throwing. She was unable to get out of the way in time, and "the ball cracked her [Maria] in the head."
Drugs and Alcohol
Language
When Maria tells Emilio that she can play softball, she says he is about to get "pig-headed."
Supernatural
Spiritual Content
Maria explains the misunderstanding people have about her community. "People called the families Mexican Hindus even though the fathers were mostly either Sikh or Muslim in the God department."
When Maria explains why she was late getting home from school, her mom "looked up at the ceiling as if she was asking God and the archangels for guidance."
After lying to her mother, Maria guiltily looks at an altar in her house, on which stands "the Lady of Guadalupe, blessed Mother of Jesus," a Sikh prayer book, "a wooden carving of the holy man who had founded Papi's Sikh religion hundreds of years ago," and "a rounded symbol…called Ikonkar, which meant 'There is one God.'"
Maria goes to confession, which was "near torture."
While the wives and children go to mass, the husbands stay outside and get a picnic ready. This is because, as Papi explains, "God is everywhere, so I will just pray to him out here, under this beautiful sky!" Their wives "would roll their eyes at their stubborn heathen husbands."
Maria's family attends Mass for Gian's funeral. As Gian's wife and daughters process in, someone whispers, "Was he ever baptized?" Maria thinks the service was so special, and "whether he was baptized seemed not to matter."
During Gian's funeral, Maria thinks, "grieving together for a good man, in the presence of the Holy Mother Church, did bring you closer to the Lord."
Maria prays to Mary and the Sikh holy teachers, asking them to "make the world a better place."
Papi says the bill that will allow people from India to become American citizens has to go to the Senate, and "God alone knows what will happen there."
"Extra blessings were needed" when Papi announces their landlord is moving. "Papi prayed from his holy book and Mama said an Ave Maria. Sometimes life demanded help from every kind of god."
When Maria is worried about not being able to play softball, Papi sings "an old Punjabi prayer" to comfort her. Then he tells her, "Don't be afraid. God will provide."
Maria asks Papi if he is sad that he can't see his temple in India. He answers, "All the God you ever need, you carry in your heart."
Maria suggests her parents buy their farmland in her name since she is an American citizen, and they are not. "Papi was singing 'Waheguru satnaam.' Mama crossed herself. There were many ways to praise the Lord for sending a really good idea into a girl's mind."
A minister prays before a softball game.
When Maria plays in her first softball game, "fly balls landed in Maria's glove as if heaven itself was sending them there."
After her team wins the softball game, Maria expresses her thankfulness in both of her parents' religions. "Wahgeguru, Maria thought, and crossed herself in gratitude."
by Jill Johnson
---
"Maybe playing ball could keep your heart from breaking," Maria. –Step Up to the Plate, Maria Singh