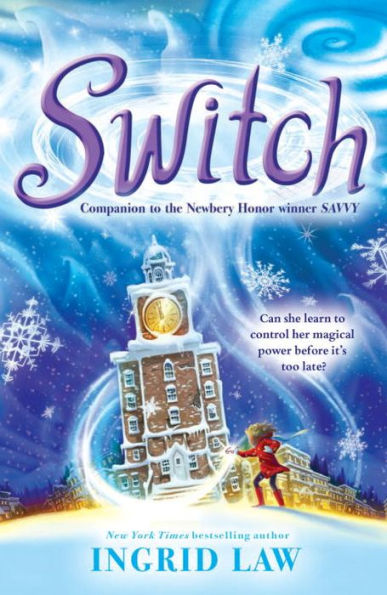 Buy This Book
---
---
"My mom is going to kill me. Then, because she's a cardiologist, she'll pull out her defibrillator paddles and restart my heart--just so she can kill me again," Nola. –Switch
Switch
companion to Savvy
by Ingrid Law
AR Test, Must Read
At A Glance
Interest Level

8+
Entertainment
Score
Reading Level
5.6
Gypsy Beaumont used to love being a whirly-twirly girl who picked flowers and danced. She has been dreaming of her savvy—the extraordinary talent that strikes every Beaumont on their thirteenth birthday. Gypsy had imagined getting the wings of angels or being able to catch candy necklaces instead of fish, but when her thirteenth birthday arrives, Gypsy gets blurry vision and catches glimpses of the past and future.
Then in a strange turn of events, everyone's savvy is switched and things become topsy-turvy. Gypsy must learn to use her new powers and try to stop the events of the last vision she saw. As she tries to change the future, Gypsy embarks on an adventure that will lead to new friendships and closer relationships with her family.
Right from the start, readers will want to turn the page to see what happens next in this entertaining story of adventure and magic. Switch shows the power of friendship and family in a heartwarming story. Being told from Gypsy's point of view allows the reader to peek inside of her mind and understand her hopes, fears, and uncertainties. Gypsy's personality comes to life and shows the difficulties of being different; however, the story goes on to show how being different should not be seen as an embarrassment, but as a gift.
Switch tackles several difficult issues including changing friendships and the effects of aging. Gypsy's self-confidence takes a hit when her best friend stops talking to her because Gypsy acts like a "baby." The story also focuses on Gypsy's grandmother who is beginning to have difficulties remembering people and often lives her life in the past. Switch expertly weaves lessons about friendship, family, and accepting yourself into a beautifully written story with memorable characters.
Sexual Content
Two characters kiss twice. When it's close to Valentine's Day, Gypsy is reminded of the way, "Samson and Nola had secretly kiss-kiss-kissed behind Grandma's house."
Violence
Tucker throws a tantrum and grows "as tall as the house itself." In his anger he uproots "trees in our front yard like they were daisies . . . tossed two leafless maples and a blue spruce into the field across the road." He also "kicked over a tool shed." Someone finally calms him down by offering him candy.
A bully tells B-Bug to punch someone. "B-Bug was already reaching over the counter. With an apologetic look, he grabbed the front of Del's hoodie. Then he pulled back his arm, aiming his knuckles at the smaller boy's face." Before B-Bug can hit him, Gypsy stops time.
Drugs and Alcohol
Language
Supernatural
Savvy family members have special powers. At the beginning of the book, Gypsy can see into the future and past.
Samson can make fire. When he first learns of the power, he "glanced down at his hands as each of his fingers lit up in licks of red-and-yellow flames. He looked like he was holding ten candles. A second later, there was a whoosh and a crackle, and Samson's entire body became a bonfire."
Tucker grows bigger (he can grow larger than a house) when he is angry.
Spiritual Content
Gypsy's family attends church once and Gypsy prays. In one scene she "asked God and all the angels to make everything go back the way it was before Mrs. Kim called . . . before we learned that Grandma Pat was ill and had to live with us . . ."
---
"My mom is going to kill me. Then, because she's a cardiologist, she'll pull out her defibrillator paddles and restart my heart--just so she can kill me again," Nola. –Switch