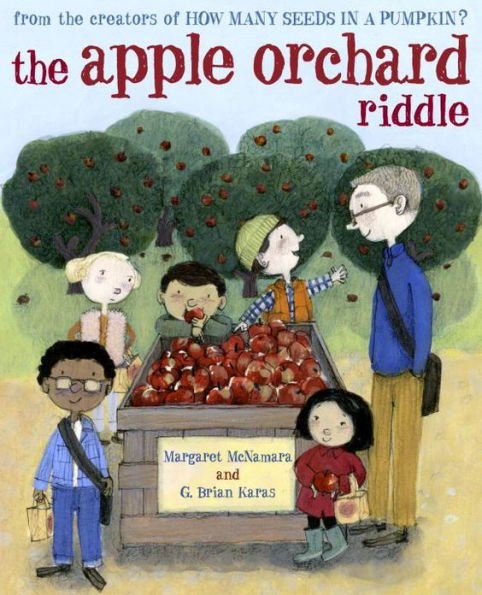 Buy This Book
---
---
Mr. Tiffin said, "Show me a little red house with no windows and no door, but with a star inside." –The Apple Orchard Riddle
The Apple Orchard Riddle
Mr. Tiffin's Classroom
by Margaret McNamara 
AR Test, Picture Book
At A Glance
Interest Level

4 - 6
Entertainment
Score
Reading Level
3.0
Mr. Tiffin's class is going on another field trip. The class is excited to go to an apple orchard and learn all about apples. The kids will see how apples are harvested, how apples are turned into cider, and how apples are turned into pies and cakes. Mr. Tiffin even shows the class all the different varieties of apples. During the field trip, the class is challenged to find the answer to a riddle: "Show me a little red house with no windows and no door, but with a star inside."
Each book in Mr. Tiffin's Classroom Series focuses on a different student. This story focuses on Tara, who likes to daydream and isn't "good at tests." Even though Tara is the focus of the story, she doesn't have a conflict. Without a conflict, the story is flat and lacks suspense. In addition, one of the students is a little snarky.
Each page has large illustrations that show a diverse group of children. Each page has 1 to 6 sentences and almost every page shows an illustration of a different aspect of an apple farm. Even though The Apple Orchard Riddle is a picture book, the story is intended to be read aloud to a child, rather than for the child to read it for the first time independently. The end of the story contains a list of apple orchard facts.
As students work to discover the answer to the riddle, they look at a tractor, a barn, and an apple peeler. However, the answer to the riddle is obvious from the start. Throughout the field trip, Tara spends a lot of time thinking instead of participating in the other activities. In the end, she discovers the riddle's answer. Unfortunately, Tara's situation doesn't correspond with apples and the story doesn't have a life lesson.
The Apple Orchard Riddle isn't as interesting as other books in Mr. Tiffin's Classroom Series. However, readers will enjoy seeing the different parts of an apple farm. In addition, Tara's tendency to spend time thinking and daydreaming is showed in a positive light. Mr. Tiffin's Classroom Series allows readers to explore and learn about different places from the comfort of their homes.
Sexual Content
Violence
 Drugs and Alcohol
Language
Supernatural
Spiritual Content
---
Mr. Tiffin said, "Show me a little red house with no windows and no door, but with a star inside." –The Apple Orchard Riddle