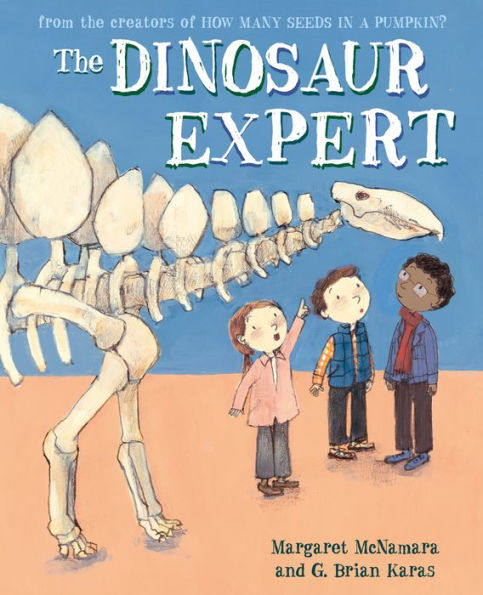 Buy This Book
Buy This Series
---
---
"I love fossils," Kimmy said. "I want to be a scientist when I grow up." –The Dinosaur Expert  
The Dinosaur Expert
Mr. Tiffin's Classroom
by Margaret McNamara
AR Test, Picture Book
At A Glance
Interest Level

4 - 8
Entertainment
Score
Reading Level
3.2
Mr. Tiffin and his students are back in another picture book; this time the focus is on dinosaur-loving Kimmy. During a field trip to the natural history museum, Kimmy is thrilled to share what she knows about the Stegosaurus, the Archaeopteryx, and even the ginormous Titanosaurus. But that all changes when one of her classmates questions whether girls can be paleontologists, and Kimmy starts to feel shy. What if girls can't be paleontologists? What if no one wants to hear what she has to say? It will take some help from Mr. Tiffin—and from a famous scientist—for Kimmy to find her voice again.
The Dinosaur Expert has many positive aspects, including Mr. Tiffin, who encourages Kimmy to share her dinosaur knowledge. Mr. Tiffin shows her an exhibit of Dr. Brandoni de Gasparini's hunting fossils. Seeing a woman paleontologist gives Kimmy the courage to tell her classmates about dinosaurs. The end of the book includes a short biography of seven of Kimmy's favorite women paleontologists.
Every dinosaur-loving kid should read The Dinosaur Expert, which has many fascinating facts as well as detailed illustrations of dinosaurs. Readers will enjoy seeing Kimmy's character grow from a timid girl who doesn't want to talk, to a confident girl who shares her knowledge.
Each page has large illustrations that show a diverse group of children. Almost every page shows an illustration of a dinosaur as well as many dinosaur facts. Each page has 1 to 5 sentences. However, readers will need help with some of the dinosaur names and advanced vocabulary.
Young readers will enjoy going on a field trip with Mr. Tiffin's class and will relate to Kimmy's fear of speaking up. The story blends Kimmy's conflict and dinosaur facts, which will keep readers interested in the story. Plus, girls will love seeing real women scientists who have made contributions to the study of dinosaurs. One of the best parts of The Dinosaur Expert is that it shows that anyone can become a scientist. Readers who can't get enough of dinosaurs should add The Dino Files Series by Stacy McAnulty to their reading list.
Sexual Content
Violence
 Drugs and Alcohol
Language
Supernatural
Spiritual Content
---
"I love fossils," Kimmy said. "I want to be a scientist when I grow up." –The Dinosaur Expert