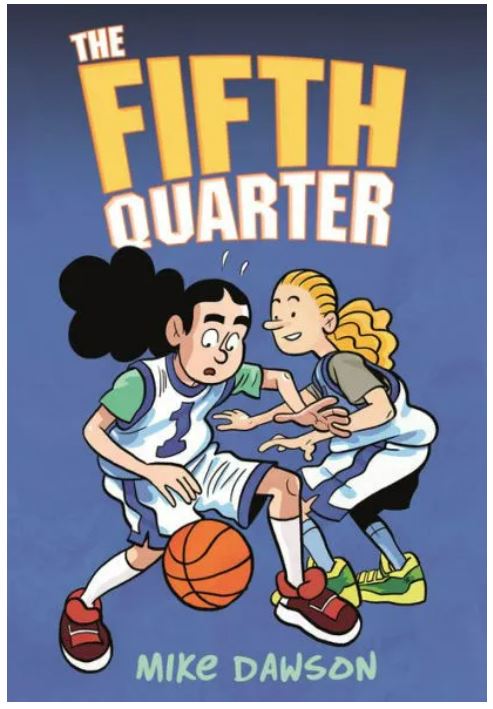 Buy This Book
---
---
"

If you want to win, you can't be scared you'll lose!

"

Jordan

.

–

The Fifth Quarter
The Fifth Quarter #1
by Mike Dawson
AR Test, Good for Reluctant Readers, Graphic Novel
At A Glance
Interest Level

8+
Entertainment
Score
Reading Level
2.2
Lori Block is dedicated to her fourth-grade basketball team, despite being relegated to an extra period before the real game starts, known as the fifth quarter, where the not-so-good kids play and the points don't count. That doesn't matter to Lori though, because working on her skills gives her hints of self-confidence, which is a nice break from feeling awkward and out of place in her daily life.
With athletic promise and a dogged determination to keep improving, Lori pursues her passion while navigating awkward social dynamics, her own expectations, and her first overnight away from home. Will her drive allow her to find true courage on the court, in school, and at home? 
The Fifth Quarter will appeal to a wide variety of readers because it deals with friendship drama, family disagreements, and basketball. Lori is a relatable character who works hard to improve her basketball skills, even when her friends have no interest in the sport. However, Lori is often bratty. For example, when Lori's mom decides to run for the town council, Lori starts screaming and throwing a fit because she's afraid of how her mother's actions will affect her.  
On and off the basketball court, Lori has friendship difficulties. Lori's friends are not interested in basketball and they often think that Lori's humor is mean. In addition, Lori blames her friendship problems on others. When Lori's friends become distant, she thinks, "Elyse always turns everyone against me." Finally, Elyse becomes brave enough to confront Lori, who apologizes, and the two girls resolve their problems.  
When Lori's mother loses the vote for town council, this gives her the opportunity to talk to Lori about the fact that, "You don't always win. And when [failure] happens, the important thing is what you do after. . . I want to show you that you don't have to be afraid. How to be brave enough to try, even if you're scared."  
Bright-colored illustrations are paired with short sentences that appear in quote bubbles that will grab readers' attention. Many readers will relate to Lori, who struggles with self-confidence and often doubts herself. Through Lori's experiences, readers will learn the importance of perseverance and practice. In the end, Lori improves her basketball skills, makes new friends, and repairs old friendships. While Lori and her siblings are often bratty, The Fifth Quarter's positive life lessons outweigh the negative behavior and the book's format will appeal to even the most reluctant readers. Readers who love basketball can find more inspiring basketball wisdom by reading the Zayd Saleem Chasing the Dream Series by Hena Khan 
Sexual Content  
Violence  
Drugs and Alcohol  
Language    
At basketball practice the coach gets angry and tells the players, "You need to stop running your mouths and listen, or you won't know what to do. . . You need to wise up and put down the dang video games!"

 

Lori's mom runs into the man who is running against her for the town council. After talking to him, Lori's mom grabs Lori's arm and starts pulling her. As Lori's mom storms off, she says, "That horrible, smug man! So pious and pleased with himself! Who does he think he is?"

 

Heck is used once.

 
Supernatural 
Spiritual Content  
---
"

If you want to win, you can't be scared you'll lose!

"

Jordan

.

–

The Fifth Quarter