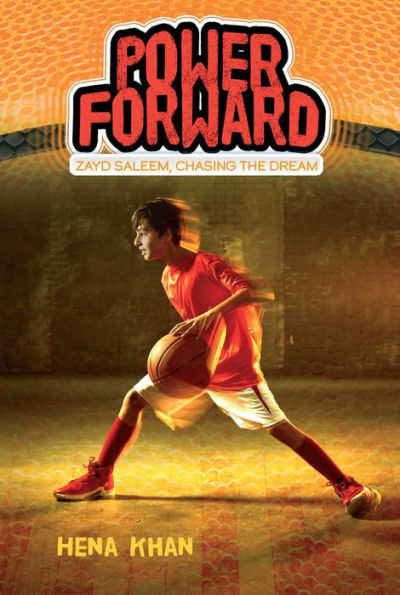 Buy This Book
---
---
". . . There's a difference between letting your family guide you and letting them stop you from following your true passion," Mamoo. ―Power Forward
Power Forward
Zayd Saleem Chasing the Dream #1
by Hena Khan
AR Test, Good for Reluctant Readers, Teaches About Culture
At A Glance
Interest Level

8+
Entertainment
Score
Reading Level
3.8
Zayd wants to take the basketball world by storm. In order to make his dreams come true, he's going to have to overcome many obstacles. He knows he's just a scrawny fourth-grader who weighs fifty-six pounds, but he's convinced that size won't get in his way. Zayd needs to step up his game to advance to the gold team. He's prepared to practice, but his parents want him to focus on practicing the violin. Can Zayd convince his parents to let him pursue his passion?
Power Forward has a straightforward, easy-to-follow plot that is perfect for younger readers who are looking to transition into chapter books. The story focuses on Zayd's desire to play basketball, but also includes glimpses into Zayd's family life and integrates the Pakistani culture into the story. Zayd's family adds humor and depth to the story.
Through Zayd's experience, readers will be exposed to lessons about family, truthfulness, and the importance of perseverance. Many readers will relate to Zayd because he deals with the difficulty of being small for his age. He shows that one does not need to be at the top of the growth chart in order to be successful in sports. For those looking for a simple sports story, Power Forward is a slam dunk.
Sexual Content
Violence
Drugs and Alcohol
Language
"Oh my God!" is used as an exclamation three times in the book.
A character tells Zayd to explain why he skipped violin practice. "Maybe they'll understand why you did such a boneheaded thing."
Supernatural
Spiritual Content
A character tells someone that she is going to "the mosque to plan the fund-raiser."
---
". . . There's a difference between letting your family guide you and letting them stop you from following your true passion," Mamoo. ―Power Forward