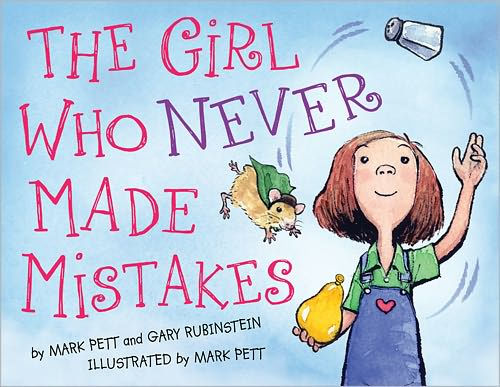 Buy This Book
---
---
"The crowd sat stunned. They couldn't believe that the Girl Who Never Makes Mistakes made a mistake! –The Girl Who Never Made Mistakes
The Girl Who Never Made Mistakes
by Mark Pett & Gary Rubinstein
AR Test, Picture Book
At A Glance
Interest Level

4 - 8
Entertainment
Score
Reading Level
2.8
Nine-year-old Beatrice Bottomwell has NEVER (not once!) made a mistake. She never forgets her math homework, she never wears mismatched socks, and she ALWAYS wins the yearly talent show at school. In fact, the entire town calls her "The Girl Who Never Makes Mistakes!" One day, the inevitable happens: Beatrice makes a huge mistake in front of everyone. But in the end, readers (and perfectionists) will realize that life is more fun when you enjoy everything—even the mistakes.
Most readers will relate to Beatrice, who wants to do everything perfectly and is afraid of making mistakes. When Beatrice almost makes a mistake, she begins worrying that she will mess up, and her worry makes her terribly unhappy. The Girl Who Never Made Mistakes illustrates that everyone makes mistakes, and sometimes mistakes can lead to fun. However, when Beatrice finally makes a mistake, she laughs at herself, which causes others to laugh with her. Parents may want to take the opportunity to discuss when it is and isn't appropriate to laugh when others make mistakes.
Even though The Girl Who Never Made Mistakes is a picture book, the story is intended to be read aloud to a child, rather than for a child to read it for the first time independently. Most pages contain 1-6 sentences and some of the sentences are complex. The full-page illustrations add humor to the story. Some of the pages have paneled pictures that resemble comics. Throughout the story, the illustrations show Beatrice's facial expressions, which allows readers to see her varying emotions.
In a world where children are often pressured to do well, The Girl Who Never Made Mistakes reminds readers that mistakes are a part of life. Beatrice's "mistakes" are wearing mismatched socks, making a messy peanut butter and jelly sandwich, and falling when ice skating. Beatrice's mistakes are simple and do not lead to any major problems; nevertheless, the story makes a good starting point for parents and children to have a conversation about how it feels to make a mistake.
Sexual Content
Violence
 Drugs and Alcohol
Language
Supernatural
Spiritual Content
---
"The crowd sat stunned. They couldn't believe that the Girl Who Never Makes Mistakes made a mistake! –The Girl Who Never Made Mistakes