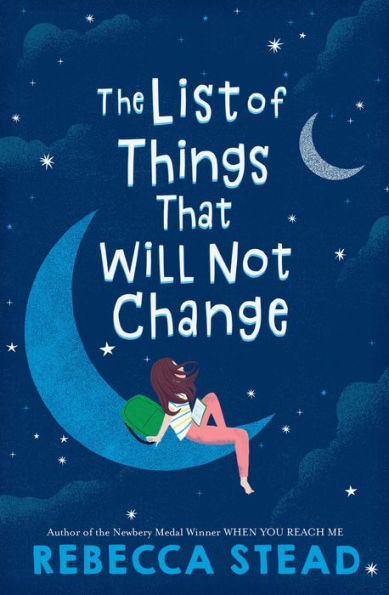 Buy This Book
---
---
"Some people would probably think it's wrong for me to be telling you this, Bea. But you might as well know right now that there are people who will try to make you choose between who you are and who they want you to be. You have to watch out for those people," Sheila. –The List of Things That Will Not Change    
The List of Things That Will Not Change
by Rebecca Stead
AR Test, LGBTQ
At A Glance
Interest Level

8+
Entertainment
Score
Reading Level
4.2
When Bea's parents get divorced, Bea gets shuffled between her mom's house and her dad's house. In order to help Bea process her emotions, her parents give her a notebook that has a list of things that will not change. Eventually, Bea meets her father's partner, Jessie. When the two decide to get married, Bea's biggest wish is about to come true—Bea's finally going to have a sister!
Bea has a lot in common with her soon-to-be sister, Sonia. Both Bea's and Sonia's parents are divorced. Both of their dads are gay. The one thing that is different is that Bea lives in New York while Sonia lives in California. When Bea finally meets Sonia, Bea has a hard time understanding some of Sonia's actions. Bea wonders if Sonia and she will ever be like real sisters. Will the wedding turn them into a real family?
Even though Bea's parents try to make the transition easy, Bea is confused because her parents have a different set of rules. In order to help Bea work through her emotions, she goes to see a counselor who helps her deal with her emotions in an appropriate way. For example, a counselor named Mariam teaches Bea how to worry. "She wanted me to worry for five minutes straight, two times a day… And if my worry showed up at any other time, like during school or at Angus's house, Miriam said I should tell it 'Go away, and I'll see you later.'"
The List of Things That Will Not Change is told from Bea's point of view, which allows the reader to understand her insecurities, fear, and anger. However, the story jumps back and forth between the "Year of Dad Moving Out" and the "Year of Dad and Jessie Getting Married," which can cause some confusion. Some of Bea's thoughts are revealed through letters that she writes to Sonia. Bea's vast emotions are explained in ways that every child can understand.
As the story progresses, Bea learns that not everyone is accepting of her Dad and Jessie getting married. Someone tells Bea, "Family can turn their backs on you, just like anyone else." Bea finds out that Jessie's family doesn't talk to him anymore because he is gay. Jessie's sister tells Bea that when people take away their love, "It makes you smaller. Sometimes it makes you disappear."
Another important lesson Bea learns is that "Life is like a trip. A very long one. And what matters most is the people you travel with." While The List of Things That Will Not Change teaches some important life lessons, readers may have a difficult time finishing the book. The majority of the book focuses on Bea's emotions, which slows the pace and makes the book difficult to read to the end. The List of Things That Will Not Change will help readers who are facing a life-changing event process their emotions. We Are All Made Of Molecules by Susin Nielsen tackles some of the same themes and contains more action; however, it is only appropriate for more mature readers. Readers who are plagued by anxiety and need help understanding their emotions should read Guts by Raina Telgemeier.
Sexual Content
Bea's father told her, "He would always be attracted to some men the same way some men were attracted to some women. It's the way he's felt since he was little."
Violence
Bea's cousin calls her a ping-pong ball because she goes back and forth from her mother's house to her father's house. Bea "was on top of her in three steps. First, I yanked her ponytail, and then I smacked that ball off her hip, down to the dirt."
When Bea was eight, she was invited to a birthday party. While playing musical chairs, she "didn't want to lose… But when the music stopped the second time, the closet chair already had someone sitting in it…" Bea shoved a boy off the chair onto the floor.
When Bea was leaving the birthday party, she "threw my party bag at Carrie's mom. It hit the wall right behind her, and everything inside—candy corn, mostly—exploded all over the floor."
Bea is upset at a girl in her class. She tricks the girl into putting her hand up to her nose. Then Bea "bashed it into her face. Carolyn's eyes teared up. She cupped her hands around her nose for a few seconds and then took them away, slowly." Carolyn tells Bea, "You're mean sometimes, you know that?"
Bea feels guilty because she "pushed my cousin Angelica off the loft at our summer cabin. Uncle Frank says her head missed the woodstove by four inches."
Bea's cousin shows her a scar and says, "That's where James threw a piece of wood at me when he was ten. It had a nail sticking out of it! Blood everywhere!"
Jessie's brother comes to the wedding and "pushed the cake off the table." Then he runs out of the wedding.
 Drugs and Alcohol
Bea's cousin said she saw a guy that "was totally drunk."
Language
While at the family's summer cabin, Bea's cousins begin commenting on people's butts. One cousin says, "Hey, hey, my name is Bill, but my butt is bigger than Hamburger Hill." Another cousin says, "Hey, hey, my name is May—and my butt's not big, but my daddy's gay!"
Bea calls her cousins "a bunch of jerks."
Supernatural
Spiritual Content
Bea's cousin thinks she was injured because she had bad karma. She says, "I was vacuuming—I have to vacuum the whole house. And I heard this noise in the hose… And when I looked, I saw this little toad in the canister… I didn't do anything. I left it there, to get dumped."
---
"Some people would probably think it's wrong for me to be telling you this, Bea. But you might as well know right now that there are people who will try to make you choose between who you are and who they want you to be. You have to watch out for those people," Sheila. –The List of Things That Will Not Change