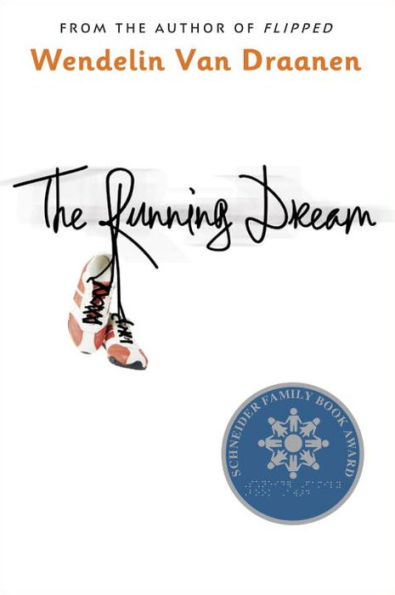 Buy This Book
---
---
Rosa's "biggest wish wasn't to cross a finish line or have people cheer for her. It's to have people see her instead of her condition. That's all anybody with a disability wants. Don't sum up the person based on what you see, or what you don't understand; get to know them," Jessica. –The Running Dream  
The Running Dream
by Wendelin Van Draanen
AR Test
At A Glance
Interest Level

12+
Entertainment
Score
Reading Level
4.1
Running is the thing that makes Jessica feel most alive. So when she loses a leg in a tragic accident, she is shattered—inside and out.
The doctors say she'll walk again with a prosthetic limb, but to Jessica, that is cold comfort. Walking isn't running, and at this point just standing up causes her to shake. As she struggles to re-enter her life, Jessica gets to know Rosa—a girl with cerebral palsy—and begins to see that her future is full of opportunities. Soon Jessica starts to wonder if it is possible to cross new finish lines.
The Running Dream is told from Jessica's point of view, which helps the reader understand her myriad emotions. Jessica's story unfolds in five sections and each section focuses on one aspect of Jessica's experiences. Understandably, at first, Jessica wonders why the accident happened to her. Why was she the one to lose a leg? However, the story also shows Jessica's healing process and how she comes to better understand others because of her disability. Rosa, who has cerebral palsy, helps Jessica with her transition back into school. Through Rosa, Jessica learns that Rosa's "biggest wish wasn't to cross a finish line or have people cheer for her. It's to have people see her instead of her condition. That's all anybody with a disability wants. Don't sum up the person based on what you see, or what you don't understand; get to know them."
Each chapter of The Running Dream is three pages or less, which keeps the action moving. Dividing the book into sections also helps the reader understand the changes that Jessica is going through. Even though the book focuses on Jessica's recovery, The Running Dream is also a book about friendship, community, and finding hope.
The Running Dream was awarded the Schneider Family Book Award. The engaging story shies away from profanity and other objectionable material. Instead, the story is propelled by Jessica's conflicts and relationships. Anyone who has ever been injured or who loves to run will connect with The Running Dream. However, Jessica's story includes enough high school drama, sibling conflict, and parental problems to capture everyone's attention. The conclusion ends on a hopeful note and shows how Jessica's injury has made her a better person.
Sexual Content
Jessica has had a crush on Galvin. He tells Jessica how he feels about her and then gives her "a long, salty kiss."
Violence
 Drugs and Alcohol
While in the hospital, Jessica is given morphine and other medication for the pain. Jessica says, "The nurses are nice about my pain meds. It's the only way I get any sleep."
After Jessica gets home, she begins, "pushing the clock on my pain meds. Taking them early. Slipping in an extra one when I really need it." When Jessica's parents find out, they take the pain meds away from her.
Language
"Oh my God" is used as an exclamation once.
Supernatural
Spiritual Content
---
Rosa's "biggest wish wasn't to cross a finish line or have people cheer for her. It's to have people see her instead of her condition. That's all anybody with a disability wants. Don't sum up the person based on what you see, or what you don't understand; get to know them," Jessica. –The Running Dream