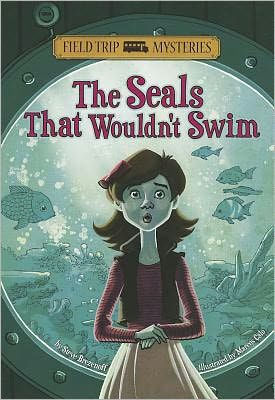 Buy This Book
---
---
"Two seals have gone missing. Polhaus and Dundy have been seal-napped!" Mr. Low. –The Seals that Wouldn't Swim
The Seals That Wouldn't Swim
Field Trip Mysteries
by  Steve Brezenoff 
AR Test, Good for Reluctant Readers
At A Glance
Interest Level

8+
Entertainment
Score
Reading Level
3.0
Catalina "Cat" Duran and her friends thought they were on a field trip to see the seals at the aquarium. So why has the seal show been canceled?
Cat and her friends are determined to find who seal-napped Polhaus and Dundy. They wonder if it is one of the chaperones on the field trip, an aquarium worker, or someone on the outside. The kids spy on the adults to find important clues. In the end, the kids discover the culprit and race to tell the security guard. Soon, Polhaus and Dundy are safely back in the aquarium.
The Seals That Wouldn't Swim has beautiful full-colored illustrations that show Cat and her friends interacting with the suspects. The illustrations appear every 3 to 7 pages. In addition, some of the story quotes appear in oversized white letters on a black background. The graphic elements, large text, and illustrations break up the text into manageable parts. The book also includes A Detective's Dictionary of some of the words used in the story. Despite this, readers may have difficulty remembering the large cast of culprits.
Even though the missing seals make an interesting mystery, the story doesn't have much action. Cat and her friends spend most of their time eavesdropping. In the end, they are able to solve the mystery by rummaging through someone's purse. Unfortunately, the seals only make a small appearance at the very end of the book. However, the story tackles the topic of animal cruelty in a child-friendly manner. The story ends with an essay that Cat wrote on animal rights, which introduces "the most famous and largest animal rights group," PETA.
Mystery-loving readers will be pulled into The Seals That Wouldn't Swim by the beautiful illustrations. They will also enjoy seeing a group of kids work together to help the seals. However, readers who expected to see some animal action will be disappointed. The easy-to-read format and easy vocabulary make The Seals That Wouldn't Swim accessible to proficient readers who are ready for chapter books. For more mystery-solving fun, readers should check out the Hilde Cracks the Case Series by Hilde Lysiak.
Sexual Content
Violence
 Drugs and Alcohol
When Cat and her friends overhear the aquarium workers talking about someone giving the seals a tranquilizer, Sam says, "So, someone slipped the seals a mickey." One of the kids doesn't understand what the phrase means, so someone explains, "Slipped them a mickey. I'm pretty sure she means someone gave them a drug to make them sleep."
Language
An adult says, "Darn it."
When Cat and her friends sit down at a table, one of their classmates says, "We're sitting with the dorks."
Supernatural
Spiritual Content
---
"Two seals have gone missing. Polhaus and Dundy have been seal-napped!" Mr. Low. –The Seals that Wouldn't Swim