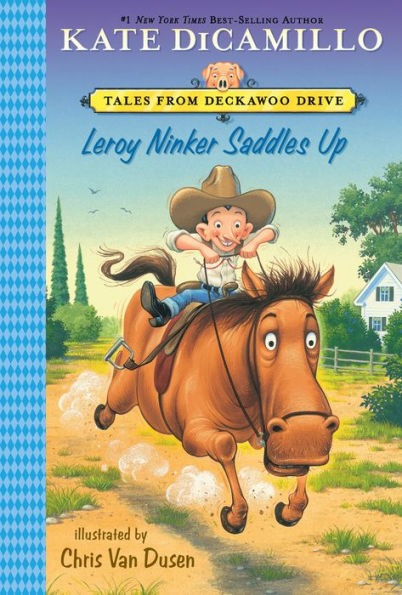 Buy This Book
Buy This Series
---
---
"How could he hope to be a cowboy, a real cowboy, a true cowboy, without a horse?" Leroy Ninker. –Leroy Ninker Saddles Up
Leroy Ninker Saddles Up
by Kate Dicamillo 
AR Test
At A Glance
Interest Level

6+
Entertainment
Score
Reading Level
3.7
Yippie-i-oh! Saddle up for the first in a spin-off series starring favorite characters from Kate DiCamillo's Mercy Watson Series. Leroy Ninker dreams of being a cowboy. He has a hat, a lasso, and boots. What he doesn't have is a horse—until he meets Maybelline, that is, and then it's love at first sight.
Leroy has big dreams, but he's not sure how to make them come true. His coworker tells him, "What you have to do here is take fate in your hands and wrestle it to the ground." This advice motivates Leroy to find a horse. Even though the horse, Maybelline, isn't a perfect horse, Leroy loves her. Maybelline's owner tells him that he needs to remember three things. One: Maybelline likes compliments. Two: She eats a lot of grub. Three: "Don't leave Maybelline alone for long, or you will live to rue and regret the day."
Leroy leaves Maybelline alone for just a minute, but that was enough time for the horse to get scared and wander off. Maybelline runs and runs. Leroy goes to search for his horse, but he can't find her. Will Leroy be able to find his horse?
Leroy's adventure has plenty of humor that will leave readers with a smile. Leroy gives the horse a lot of compliments such as, "You are the brightest star in the velvety nighttime sky!" Readers will laugh when Leroy uses pretty words, and when Leroy unsuccessfully tries to push Maybelline through the apartment's door. Leroy's dream comes true in a unique way, and the love between him and his horse is endearing.
Large black and white illustrations appear every 1 to 3 pages and will help readers understand the story's plot. The illustrations highlight the difference between Leroy's dreams and reality. Leroy's dreams appear in bubbles and show a beautiful, perfect horse. However, Maybelline is an imperfect horse, but Leroy loves her. Many of the illustrations are full-page and have humorous elements to them. Even though Leroy Ninker Saddles Up is intended for younger readers, they may need help with difficult vocabulary such as cogitate, informational, emboldened, and savoring.
The sweet conclusion gives the sense of community as Leroy, Maybelline, and several others are invited in to share breakfast with Mercy Watson. Readers familiar with the Mercy Watson Series will enjoy the two books' similarities. However, readers do not need to read the Mercy Watson Series to understand the events in Leroy Ninker Saddles Up. Both the text and the illustrations in Leroy Ninker Saddles Up use humor that will inspire readers to dream big.
Sexual Content
Violence
 Drugs and Alcohol
Language
When someone throws a can at Leroy, he says, "Dang nib it."
Occasionally, Leroy exclaims phrases such as, "Gol' dang it, dag blibber it" and "flibber gibber it."
Heck is used once.
Supernatural
Spiritual Content
---
"How could he hope to be a cowboy, a real cowboy, a true cowboy, without a horse?" Leroy Ninker. –Leroy Ninker Saddles Up