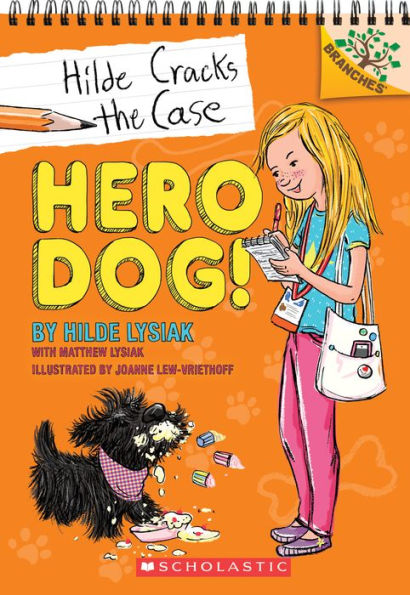 Buy This Book
---
---
"I'm sorry for jumping to conclusions," Mrs. Taggert.  —Dog Hero
Hero Dog!
Hilde Cracks the Case #1
by Hilde Lysiak
AR Test, Strong Female Character
At A Glance
Interest Level

6+
Entertainment
Score
Reading Level
3.4
There's been a break-in on Orange Street, and 9-year-old reporter Hilde is determined to crack the case. As Hilde begins interviewing witnesses, she soon discovers a string of missing sweets. Cupcakes have disappeared. A pie has gone missing. Many believe that Mr. Macintosh's dog, Zeus, is the culprit. With the help of her sister Izzy, can Hilde discover the thief's true identity?
Hero Dog! is a fast-paced mystery designed for younger readers. The story begins with Hilde's "reporter's toolbox" that teaches new vocabulary. As she interviews her sources, Hilde shows the importance of being observant and models questioning skills. Illustrations from her reporter's notebook repeat key details of the story as well as questions she needs to answer. The end of the book has questions and activities that will encourage readers to check for understanding. Readers will want to follow the clues and see if they can solve the mystery along with Hilde. Hilde Cracks the Case: Hero Dog! is an excellent story that has the added benefit of teaching younger readers skills they will use in their daily life.
Sexual Content
Violence
Drugs and Alcohol
Language
Supernatural
Spiritual Content
---
"I'm sorry for jumping to conclusions," Mrs. Taggert.  —Dog Hero