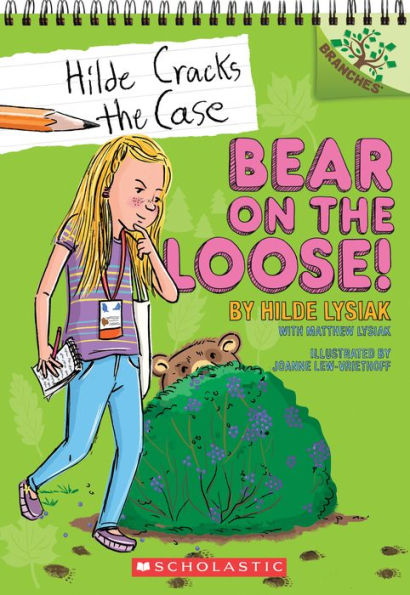 Buy This Book
---
---
"Did you get a picture?" I asked. Izzy narrowed her eyes. "I was sort of busy saving your life."   —Bear on the Loose!
Bear on the Loose!
Hilde Cracks the Case #2
by Hilde Lysiak
AR Test, Strong Female Character
At A Glance
Interest Level

6+
Entertainment
Score
Reading Level
3.2
Nine-year-old Hilde is determined to find a story for her newspaper. When she hears sirens, she follows the sound and discovers there may be a bear on the loose in Selinsgrove. Hilde knows people love animal stories, and she's ready to hunt down the facts. Hilde and her sister, Izzy, follow the tracks into the forest. When Hilde gets tangled in a prickler bush, and then sees a black blur run by, Izzy is ready to call it quits. Can the two sisters find the bear before someone gets hurt?
A fast-paced mystery designed for younger readers, Bear on the Loose! integrates new vocabulary into the story. Hilde's reporter's notebook contains illustrations as well as repeated key facts. Throughout the story, Hilde shows the importance of being observant and models questioning skills. When two younger children say they saw a bear, Hilde questions the kids and finds out that they hid when they heard a growl. She tells the kids, "I report facts. The fact is that you heard a growling noise. But it is also a fact that you did not see a bear."
Several people warn Hilde and her sister to avoid the bear. However, the two girls follow the bear tracks into the forest, and then use berries to tempt the bear into coming into their yard. They eventually call a wildlife officer to come capture the bear, but the story doesn't focus on the real danger associated with wild animals.
Short paragraphs, simple word choice, and black-and-white illustrations that appear on every page will keep younger readers engaged. The Lysiak family has many positive interactions, and the two sisters work together toward a common goal. Another positive aspect of the story are the questions and activities that appear at the end of the book. Readers will want to follow the clues and see if they can solve the mystery along with Hilde. Bear on the Loose! is an excellent story that has the added benefit of teaching younger readers skills they will use in their daily life.
Sexual Content
• None
Violence
• None
Drugs and Alcohol
• None
Language
• The "mean-agers" are a group of teenagers "known for their rotten attitudes." When two of the boys appear, Izzy is worried that they are angry with them. When Izzy tries to explain, one boy says, "Don't pee your pants."
Supernatural
• None
Spiritual Content
• None
---
"Did you get a picture?" I asked. Izzy narrowed her eyes. "I was sort of busy saving your life."   —Bear on the Loose!