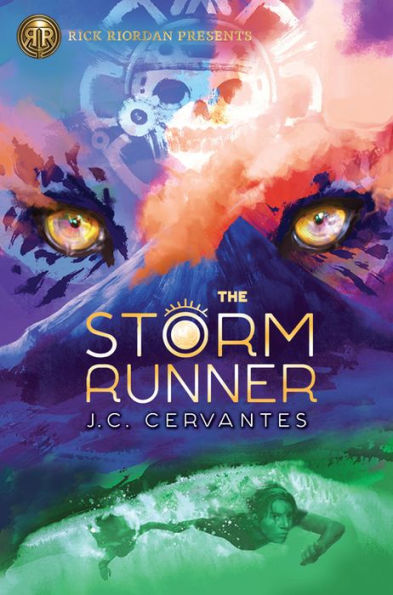 Buy This Book
---
---
"A mother's love is the most illogical of all types of love. If she knew, she'd do anything to protect you, and that could end up backfiring—on her, you, and the world," Ms. Cab. –The Storm Runner
The Storm Runner
Storm Runner #1
by J.C. Cervantes
AR Test, Diverse Characters
At A Glance
Interest Level

9+
Entertainment
Score
Reading Level
4.4
Zane keeps to himself because other kids tend to tease him about his limp and because he walks with a cane. But he doesn't mind, because he spends his days exploring a nearby sleeping volcano with his dog. One evening, as Zane is exploring the volcano, a plane with twin engines crashes. Even stranger, as the plane was going down, Zane thought he saw a monster in the cockpit.
Things get more complicated when a girl named Brooks shows up demanding that Zane meet her at the volcano. Zane follows the beautiful girl who leads Zane down a twisted path. Soon Zane is running from monsters controlled by the Maya god of death. According to an ancient prophecy, Zane's decisions may allow the god of death to escape a prison that is centuries old.
Zane soon realizes that magic, monsters, and Maya gods are more than just fables. In a web of secrets, the Gods are trying to manipulate Zane to their own advantage. Zane tries to do what is right, but what does a flawed eleven-year-old boy know about stopping the destruction of the world? In a battle against good and evil, is there any way Zane can win against a Maya god?
The Storm Runner brings the magic of Maya mythology to life in a fast-paced, action-packed story that will leave readers wondering who can be trusted. Despite being self-conscious about it, Zane doesn't let his disability deter him from trying to save the world. Although some of Zane's decisions are questionable, his imperfections make him a truly relatable character.
Zane is not the only well-developed character; the story contains a cast of interesting characters including giants, demi-gods, and even an overprotective mother. The Storm Runner is perfect for fans of the Percy Jackson series or Aru Shah and the End of Time. However, Zane's story takes a more serious tone and lacks the humor of the other series.
 The Storm Runner contains elements common to other mythological fantasy books—for instance, a boy discovers that his father is a god and must travel to strange places in order to save the world. Despite these similarities, this story effectively brings Maya mythology to life through an exciting series of events.
The length of the story, the complicated plot, and the extensive cast of characters may be overwhelming for some readers. The first third of the story introduces a lot of people, gods, and situations that cause the pace to drag. Despite a slow start, the monsters, the magical creatures, and the relationship between the characters make The Storm Runner an exciting adventure well worth reading. Readers will root for Zane as he fights evil, and they will pull their hair in frustration as Zane makes well-intentioned, but stupid decisions. In the end, readers come away with the powerful message that a person's flaws don't define them.
Sexual Content
Violence
A demon attacks and kills Zane's dog and then attacks Zane. The demon, "grabbed me by the arms, sinking its long claws into my flesh. I screamed in pain and fell to the ground . . . Slime sizzled through my shirt sleeve, burning my skin like acid."
Zane finally stabs the demon with his cane. "It sank right into the creature's gel-like body, and there was a disgusting sucking sound as the cane disappeared inside. . . I blinked as the monster dissolved into a dark pool of thick mucus. . ." The scene is described over four pages.
A creature tries to kidnap Zane. "While my uncle tussled with the alux, she hauled me back through the bank and out the front doors, then stuffed me in the car." The creature "jerked Mom's head back by her hair and mimicked her desperate voice." Brooks turns into a hawk and picked, "up the monster by the back of its neck. . . Brooks shook it hard like it was her mouse prey and she was trying to break its neck." The scene is described over three pages.
Ah-Puch eats a creature. He "scrambled to clutch the thing. Bones snapped. Then he brought it to his mouth, bit its neck, and sucked all the blood from it before tossing the drained corpse to the cave floor below. . . "
Demon runners attack Zane and Brooks. When Zane tries to escape, "The hair reached me, climbed my body, and wrapped itself around my neck, covering my mouth and pinning me to the asphalt." Zane is able to jerk "my guy's neck back" and "his thick-skinned neck ripped open easily." Hondo threw a screwdriver that wedged into the demon's skull. The demon's "face began to crack like dried mud, crumbling to the ground to reveal. . . a blue-skinned monster head. Green veins throbbed and budged." The fight takes place over six pages.
Twins who were fathered by a god are grabbed by creatures. "The creatures holding Bird and Jordan folded their wings tighter and tighter. Each of the twins' faces puckered like their heads were being sucked dry. Their skin turned gray, and purplish veins spread beneath. Their eyeballs bugged out and turned dark red." The creatures take the twins away.
Zane throws a spear at Ah-Puch's bird. "Muwan released a terrible scream and started tumbling through the air. I watched in horror as she crashed into the bare trees below. They shook on impact, their sharp branches splitting her open."
The final battle takes place over several chapters. Ah-Puch and his demons attack Zane and his group. Demon runners attack Ah-Puch's army. "They shrieked, leaping onto the back of Ah-Puch's little army with amazing force. Teeth gnashed. Claws ripped. Hair chocked." Finally, Zane turns into a jaguar and Ah-Puch turns into a snake. Zane attacks, "launching myself onto his neck as we hurtled over the step's edge, down, down, down. . . As I sank my teeth into his slimy scales, I prayed that he didn't bleed maggots. He did. They poured into my mouth as he screamed."
Drugs and Alcohol
One night, Zane's uncle Hondo drinks beer and smokes cigars.
Language
Crap and heck are used often. One example is when Brooks shows up at Zane's house, he wonders, "How the heck had she found me?"
"Oh God" is used as an exclamation a few times.
A monster attacks Zane and his uncle. His uncle asks, "What the hell was that little thing?"
Someone tells Zane, "Believe me, when I catch the idiot bonehead who let Ah-Puch out, I'm going to send him spinning into the center of the Milky Way."
Supernatural
Gods and monsters from Maya mythology are real. Brooks explains, "Myths are real, Zane. Well, most are. And gods are very real—an important part of the universe and its balance."
The first creature, a demon, has "pasty bluish gray" skin. "Its bloated body was covered in patches of dark hair. Cauliflower-like ears drooped down to its bulging neck."
Brooks is a nawal (a shapeshifter) who can turn into a hawk.
Ah-Puch, the Maya god of death, disaster, and darkness, is trapped in a magical artifact until Zane lets him out. Ah-Puch "looked like a bloated zombie with decomposing gray skin with nasty black spots, and he had a dark, twisted smile. He wore this weird helmet that had eyes hanging off it, the eyes of the people he'd recently killed."
Ms. Cab works as a psychic and is a Maya seer. A god later turns all seers into chickens.
Zane discovers that he is the son of a Maya God. He can spirit jump, which allows him to leave his body and appear in another realm.
Pacific, the keeper of time, helps Zane.
When going to a party, Zane and his friends wear enchanted clothes that "fix all imperfections." When they get to the party, a "gray-bearded skeleton materialized. . . Eyeballs floated in his eye sockets, and he wore a long white tuxedo jacket with a dead red rose pinned to one of his silk lapels."
Spiritual Content
Zane gets a scholarship to attend a Catholic school. When Zane gets into trouble at school, his punishment is "ten rosaries, detention for a week, a call to Mom, and an apology to the jerk I'd torpedoed with my cane."
After an explosion, Zane's mom says, "Thank the saints, he's safe now."
Zane sent "a prayer up to the saints and anyone else listening." Later in the story, he says a couple of Hail Mary's.
Zane splashes holy water on a picture of a demon.
---
"A mother's love is the most illogical of all types of love. If she knew, she'd do anything to protect you, and that could end up backfiring—on her, you, and the world," Ms. Cab. –The Storm Runner