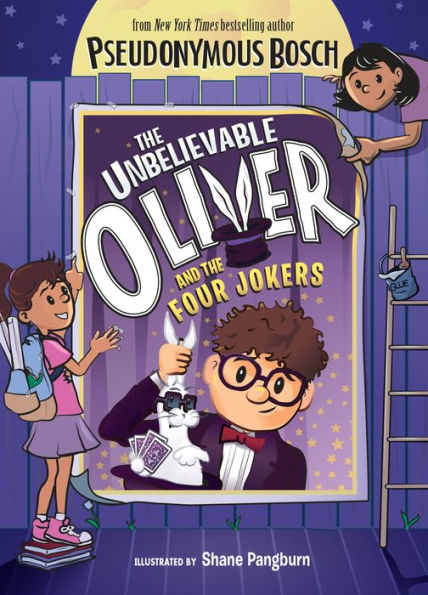 Buy This Book
---
---
"The rabbit looked into the deep dark recesses of his hat and knew what he had to do. The country life would have to wait a little longer. He was still a magician's rabbit, and a magician's rabbit never abandons his magician." –The Unbelievable Oliver and the Four Jokers
The Unbelievable Oliver and the Four Jokers
The Unbelievable Oliver #1
by Pseudonymous Bosch
AR Test, Good for Reluctant Readers
At A Glance
Interest Level

7+
Entertainment
Score
Reading Level
4.0
Oliver wants to learn magic, but he's struggling to master a simple card trick. Even though Oliver can't perform a simple card trick, his two best friends the twins, Teenie and Bea, have gotten him invited to a classmate's birthday party as the paid entertainment. Desperate for help, he visits the Great Zoocheeni's Magic Emporium. Unfortunately, he doesn't have enough money to pay for any new magic paraphernalia. Dejected, Oliver leaves with only a moth-eaten top hat.
Oliver is surprised when he finds a wisecracking rabbit named Benny living inside the top hat. Benny agrees to help Oliver wow the audience. Oliver reluctantly goes to the birthday party, but soon he's accused of stealing one of the birthday boy's gifts. Is there any way for Oliver to prove his innocence? And will Benny be able to help Oliver wow the crows with their grand finale?
The Unbelievable Oliver and the Four Jokers blends magic, mystery, and a group of mean boys to create an entertaining story. The large text, simple vocabulary, and the black and purple comic illustrations that appear on almost every page make the story accessible to all readers. The text explains the meaning of several words and idioms that readers may not understand. The story uses slapstick scenarios, some bathroom jokes, puns, and a worldly rabbit to create humor. Even though the story focuses on a group of mean boys who love to bully others, the tone is humorous instead of serious. Although Oliver prevails, the reader will not learn any positive lessons about the dangers of bullying.
Although the talking rabbit is funny, younger readers may not understand all of the humor. Benny's speech is peppered with slang, idioms, and references to his Las Vegas days. The rabbit is running from gambling debts and fears that bounty hunters are after him. While hiding, the rabbit thinks, "Could he be blamed for betting all his money on a horse named Turnip Thunder? Turnip was his favorite root vegetable!" Even though Benny would like to skip town, he stays with Oliver to the very end.
Anyone who has ever felt left out will relate to Oliver. Readers will enjoy the fast-paced story, the funny illustrations, and the conclusion that leaves Oliver victorious. Although The Unbelievable Oliver and the Four Jokers doesn't teach a moral lesson, it does gives directions on how to perform Oliver's card trick. The story is perfect for readers who want to relax with a fun, entertaining mystery.
Sexual Content
Violence
A boy dumps trash over Oliver's head.
The birthday party has an inflatable castle bounce house. Maddox didn't want to play with Teenie, so he tells his friend to "get her out of here." His friend "picked up Teenie and tossed her straight into the moat. She slid all around the castle and back to the entrance, where the other children had left their shoes."
Drugs and Alcohol
Language
Maddox calls Oliver a loser.
Darn is used once.
Supernatural
Spiritual Content
---
"The rabbit looked into the deep dark recesses of his hat and knew what he had to do. The country life would have to wait a little longer. He was still a magician's rabbit, and a magician's rabbit never abandons his magician." –The Unbelievable Oliver and the Four Jokers