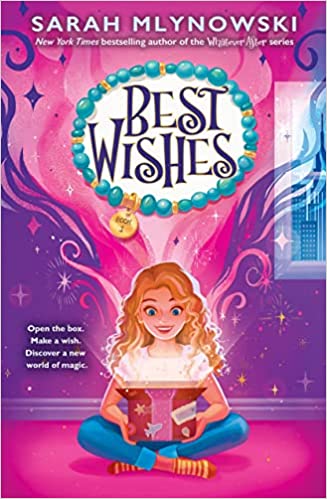 Buy This Book
---
---
"But friendship is also about being there when people need you. Seeing them for who they are. And showing them who you really are," Becca

.

–

Best Wishes
Best Wishes
by Sarah Mlynowski
AR Test, Good for Reluctant Readers, Must Read
At A Glance
Interest Level

8+
Entertainment
Score
Reading Level
3.2
Becca Singer is having the worst day ever. Her best friend, Harper, dumped her, and Becca is totally friendless and alone. Then a box arrives in the mail. 
Inside the box? One bracelet, plus a mysterious note telling Becca to make a wish. So Becca puts on the bracelet—why not, right?—and wishes to have friends. Lots of friends. So many friends. 
And just like that, the magic works. Suddenly, EVERYONE wants to be Becca's BFF, from all the kids at school, to the teachers, to her own mom. As things spin out of control, Becca starts to wonder: Is this wish really a curse? 
Best Wishes' super cute cover will cause readers to pick up the book, while the engaging story will keep them entertained until the very end. Readers will relate to Becca's conflicts—growing apart from a best friend, uncertainty about how to make friends, and the desire to fit in. When Becca's wish comes true, she takes advantage of the situation in order to get a cell phone, a manicure, and eat pizza. At first, Becca is thrilled to have so much attention and to always have people tell her yes, but soon she realizes that "all the attention and nice things people were saying felt kind of . . . empty."  
The theme of friendship runs throughout the story and will leave readers with many questions to ponder: Is having a lot of friends important? How can you be surrounded by friends and still be lonely? What makes someone a true friend? Through Becca's experiences, she comes to the realization that "the most important part of friendship was showing you cared."   
Suspense is added when a mysterious woman tries to get Becca to sell the magical bracelet to her. Even though Becca refuses, the woman keeps appearing. Once Becca realizes that her wish is more like a curse, she tries to take off the bracelet, but can't—even with the help of this mysterious woman. Eventually, the woman attempts to steal the bracelet from Becca and a surprising hero jumps in to rescue the bracelet from the woman's grasp. 
Not only is Best Wishes an engaging story with a positive message, but it is also a story that will appeal to many readers. The story uses simple vocabulary and short paragraphs which makes the text easy to read. There are also adorable black and white illustrations every two to ten pages. The illustrations will help readers understand the plot and Becca's emotions. For example, while at school Becca has an embarrassing moment and the illustration shows her trying to hide in her pencil box. Since one of the characters talks about the Dork Diaries Series, this may spark readers' desire to read even more.  
Best Wishes should be on every child's reading list, not only because it's an engaging book but also because it teaches the reader about friendship. The story portrayed Becca's family in a positive manner even though they are not perfect. In the end, Becca learns the true meaning of friendship and grows as a person. Strong readers interested in reading another beautiful book about friendship should add Firefly Hollow by Alison McGhee and Wish by Barbara O'Connor to their must-read list.  
Sexual Content  
Violence  
Drugs and Alcohol  
Language    
OMG is used frequently.

 

Omigod is used once.

 

At one point, Becca wonders why her brother has so many friends. She thinks, "If making friends was so easy for my brother, why was he usually such a jerk to me?"

 
Supernatural 
Becca receives a magical bracelet with instructions to make a wish. Becca wishes that "everyone wanted to be my friend." After she makes the wish, "The bracelet tightened around my wrist. The lights in the classroom flickered, and a rush of air hit my skin. Suddenly, my whole body felt like it was glimmering. Sparkling." Becca's wish is granted. 

 
Spiritual Content  
Becca and her family are Jewish. They are "not very religious but they try to stay kosher." 

 

Becca's family observes the Sabbat, and they have a traditional Sabbat which includes lighting candles, a Hebrew prayer, and eating a "special braided bread loaf." 

 
---
"But friendship is also about being there when people need you. Seeing them for who they are. And showing them who you really are," Becca

.

–

Best Wishes