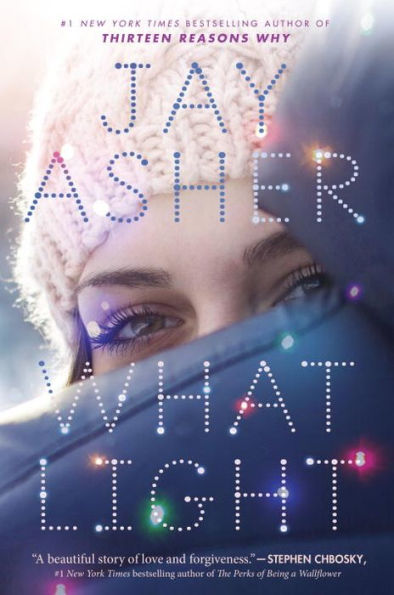 Buy This Book
---
---
"So there's no room for mercy? Great lesson, Dad. You mess up once, you're screwed for life," Sierra. –What Light
What Light
by Jay Asher
AR Test
At A Glance
Interest Level

12+
Entertainment
Score
Reading Level
4.5
The Christmas season holds a special place in the heart of Sierra's family. Her parents first met at a Christmas tree lot and quickly fell in love. Now her parents own a Christmas tree farm in Oregon. Every winter, the family travels to California to set up their Christmas tree lot. Because of this, Sierra has never had a normal Christmas holiday, but she has never wanted anything different, having friends in both Oregon and California.
Sierra has always been able to keep her two lives apart, but all that changes when she meets Caleb, a handsome boy with a bad reputation. Even though Sierra is warned to stay away from Caleb's cute smile, Sierra is drawn to him. The more she gets to know him, the more questions she has about his bad reputation. Sierra is determined to show others that Caleb's past mistakes should not define him, but with mounting pressure from her parents and friends, Sierra wonders if Caleb is worth the trouble. Amid growing suspicion and misconceptions, Sierra wonders if love really can conquer all.
What Light is a beautiful story about first love, forgiveness, and family. Readers will fall in love with Sierra, who doesn't hide her intelligence when trying to attract a boy. Instead, she continues to use advanced vocabulary and enjoys the fact that Caleb tries to stump her with new words. Readers will be drawn to Sierra because of her sweet, trusting nature and her love of all things Christmas. Another positive aspect of the story is Sierra's parents, who use positive communications skills to guide Sierra through her first love, even as they worry about the possibility of Caleb breaking her heart.
As teen romances flood the market, What Light will draw readers in with relatable characters who have healthy relationships. This sweet story steers away from sex, swear words, and other objectionable material. Any reader who is looking for an engaging holiday romance should grab a blanket and a cup of hot cocoa and curl up with What Light. Like a Hallmark Movie, this story will leave readers with a smile and the belief that love can indeed conquer all.
Sexual Content
Heather talks about her boyfriend and says, "If the choice is between listening to him or kissing him, kissing is a much better use of his mouth."
When Sierra talks to Heather about her boyfriend, Sierra says, "You and Devon hang out a lot, and I know you make out a lot, but does he know you really like him?"
Sierra's friend tells her to, "put a stupid mistletoe over his head and kiss him already!" During the conversation, the friend also says, "You should probably kiss him, though, before you make any bigger decisions."
The first time Sierra and Caleb kiss, "he touches my cheek with his hand and guides me toward him. His lips are so soft against mine, sweetened with peppermint. I lean further in and get lost kissing him. I slide off him to the mat and then he rolls himself on top of me. I wrap my arms around him and we kiss with more intensity. We pull back to catch our breaths and look into each other's eyes."
Caleb kisses Sierra and "once again I lose myself in his kiss. I trace my lips from his jaw to his ear."
While on a date, Caleb "kisses me softly. I reach up and touch his cold cheeks, which make his lips feel even warmer. I wonder if every kiss with Caleb will feel this new and magical."
Caleb and Sierra kiss several other times, but the kisses are not described.
Violence
Caleb tells Sierra about a time when he was younger. He was angry at his sister and ran after her with a knife. When Caleb's sister ran from him, "she got to her room and slammed the door. . . I stabbed her door with the knife over and over. I didn't way to hurt her. . . but I could not stop stabbing the door. I heard her screaming and crying to our mom on the phone. Finally, I dropped the knife and just slumped onto the floor."
Drugs and Alcohol
Sierra's friend went on one date with a boy who was "caught with an open can of beer in his friend's car."
On New Year's Eve, a boy promises to be "the designated driver for the entire cheer squad."
Language
God is used as an exclamation twice. Oh my God is used as an exclamation once.
Hell, damn, and crappy are all used once
Caleb's sister calls her brother "bone-headed."
Supernatural
Spiritual Content
Sierra teases a boy, saying, "You probably consider your sweet tooth a major sin." The boy replies, "No, I don't remember that one being mentioned in church, but laziness has been, and I am that."
A little girl tells Caleb that her family has "said a prayer for you."
A family's car breaks down on a long trip and the family has to rent a motel room. When the woman recounts the experience, she says, "Thank you, God, they had a pool there or the kids would have killed each other."
Caleb and Sierra have a brief conversation about church. Caleb is a believer, and although he attends church, the story doesn't go into his beliefs.
Sierra says a prayer. "Please don't let this be the last time I see Caleb."
---
"So there's no room for mercy? Great lesson, Dad. You mess up once, you're screwed for life," Sierra. –What Light