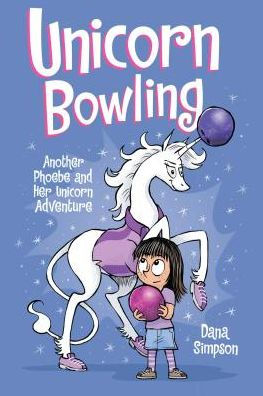 Buy This Book
---
---
"I don't have all that many friends. I'm not gonna limit myself to one gender," Phoebe. –Another Phoebe and Her Unicorn Adventure: Unicorn Bowling
Another Phoebe and Her Unicorn Adventure: Unicorn Bowling
Phoebe and Her Unicorn #9
by Dana Simpson
AR Test, Graphic Novel
At A Glance
Interest Level

7+
Entertainment
Score
Reading Level
3.9
A unicorn in bowling shoes is quite a STRIKE-ing sight. But for nine-year-old Phoebe Howell, it's just another fun outing with her best friend, the illustrious unicorn Marigold Heavenly Nostrils. This unique and magical friendship is at the heart of the ninth Phoebe and Her Unicorn collection, which includes adventures such as writing original songs, publishing rival news websites, and making a summer visit to the exclusive Camp Shimmerhorn. Life with a unicorn BFF is not without its challenges, however, and whether it's homework, friction with classmates, or talent show jitters, Unicorn Bowling is full of amusing, heartwarming reminders that when the going gets tough, the tough get sparkling.
Unlike the previous installment of Phoebe and Her Unicorn, Unicorn Bowling is a collection of comics, not a continuous story. Some of the comic strips are only 4 panels, while others span multiple pages. The panels use simple artwork with bright colors. The character's facial expressions will help younger readers understand the character's emotions. Each page has six or fewer sentences and some panels contain no words at all, which makes the story accessible to reluctant readers. Some of the vocabulary is difficult such as culottes, conspicuous, cataclysmic, and libel. To aid readers, a word glossary appears at the back of the book.
Although Unicorn Bowling is a collection of comic strips, the situations lend themselves to discussions. Phoebe and her Unicorn deal with the dangers of posting online as well as the need to take other peoples' feelings into consideration. The book also includes a comic about gender stereotypes. Younger readers will enjoy Phoebe and her Unicorn as they learn important life lessons. The humorous look at Phoebe's everyday life as well as Phoebe's friendship with Marigold will capture readers' attention.
Sexual Content
Violence
Drugs and Alcohol
Marigold ask Phoebe, "Remember the day we sang '99 Bottles of Beer on the Wall?"
Language
A girl calls Phoebe a "nerd girl."
When Phoebe is upset, she writes a song called, "Unicorns are stupidfaces"
Dang is used once.
Supernatural
Marigold says she can cast spells, but she never actually casts a spell. When Phoebe doesn't want to practice, Marigold says, "I could cast a motivation spell on you." Phoebe declines because "those make my hands shake." Marigold says, "They do contain a LOT of caffeine."
Phoebe asks Marigold to cast a non-caring spell on her. Marigold refuses because, "Every time I do that you start chewing with your mouth open."
Spiritual Content
---
"I don't have all that many friends. I'm not gonna limit myself to one gender," Phoebe. –Another Phoebe and Her Unicorn Adventure: Unicorn Bowling